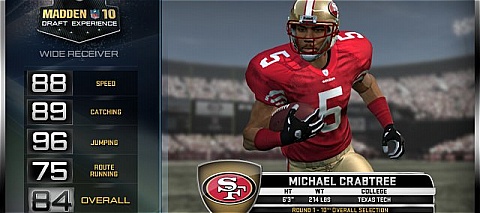 With the first day of the NFL Draft complete its time to take a look at the actions each team took and what that will mean for them in Madden 10 and beyond. Having the official player ratings for the rookies provides the opportunity to evaluate the immediate impact and future prospects based on their respective teams and situations.
Continue on to see the eight biggest "winners and losers" of the Madden Draft and leave your thoughts in the comments.
Winners
Philadelphia Eagles: WR Jeremy Maclin (79), RB LeSean McCoy (75)
The Eagles come away with two dynamic exciting players. Maclin combined with DeSean Jackson now means defenses have to worry about covering deep on both receivers. Along with Brian Westbrook and Leonard Weaver they add McCoy to a backfield that can all catch and explode for big plays. You can also include the recent addition of Jason Peters when considering what the Eagles have done with their first day.
Seattle Seahawks: OLB Aaron Curry (85), OL Max Unger (75), Broncos 2010 1st round pick
The Seahawks get the highest rated rookie in Madden 10 with Curry. Max Unger provides versatility on the offensive line as he can play any position. The big surprise was obtaining the Broncos first round pick next year which could be very high while still getting the two players they wanted in the first two rounds.
Washington Redskins: OLB/DE Brian Orakpo (82)
It seemed unlikely that Brian Orakpo would fall to the Redskins but he did. He gives them the pass rusher they desperately needed. He'll have the chance to put up gaudy numbers which means attention when it comes to roster updates.
San Francisco 49ers: WR Michael Crabtree (84), Panthers 2010 1st round pick
Like Seattle the 49ers come away with an impact player in Michael Crabtree and a first round pick next year from the Panthers. They couldn't draft to improve their pass rush or offensive line in the second round though because of that trade.
Atlanta Falcons: DT Peria Jerry (78), S William Moore (76)
Jerry is the second highest rated DT which is a position they've been looking to upgrade since last off-season. Moore was a good value late in the second round. To go along with the acquisition of Tony Gonzalez they have now addressed their most pressing areas of need.
Denver Broncos: RB Knowshon Moreno (81), OLB Robert Ayers (78), CB Alphonso Smith (77), CB Darcel McBath (69), TE Richard Quinn (74)
Unfortunately for the Broncos they gave up their first rounder next year to acquire Smith but they have obtained a bunch of players that can contribute in the game. Moreno is the dynamic RB that they didn't have. Still they are going to be mediocre at best with Kyle Orton and not having upgraded their defensive line.
Miami Dolphins: CB Vontae Davis (78), QB/WR Pat White (61), CB Sean Smith (75)
The Dolphins grabbed two good cover corners which is an important position in Madden since they are rarely user controlled. Smith specifically is intriguing cause of his height. Pat White may have a low rating but used creatively he offers another offensive weapon to the team.
Cincinnati Bengals: OT Andre Smith (79), ILB Ray Maualuga (80)
Despite the concerns over Smith he remains a highly rated rookie and the Bengals needed the help badly on the offensive line. Maualuga slipped providing an 80 rated player in the second round which was a steal.
Losers
Oakland Raiders: WR Darrius Heyward-Bey (76), S Michael Mitchell (not yet rated – probably will fall in the low 50s)
The Raiders are the laughingstock of the league once again after taking Heyward-Bey as the first WR about 20 picks higher than anyone anticipated him going. Then they go and draft a guy who was the 73rd rated safety by Mel Kiper, neither ESPN nor NFL Network had any highlights or info on him, and was not in the pool of rookies that had been created for Madden 10.
New York Jets: QB Mark Sanchez (77)
I'm a big believer in Mark Sanchez however going to the Jets he may get rushed onto the field before he's ready. He doesn't have the college experience of Matt Ryan or Joe Flacco nor did he get to sit like fellow USC alum Matt Cassel. So either Sanchez goes out and struggles early or he sits and doesn't provide much value in Madden.
Tampa Bay Buccaneers: QB Josh Freeman (72)
Similar to Sanchez you have Josh Freeman who isn't ready to start. He'll either sit and offer little value or he'll start and probably struggle meaning people would be stuck with a 72 or so rated QB which is not a good situation in Madden.
Pittsburgh Steelers: DT Evander Hood (74)
The Steelers really needed help on the offensive line and in the secondary. It was thought that they would go and pick one or both with their first two picks. Instead they took a defensive tackle, who while he may be pretty good isn't going to improve the team in Madden. Then they traded away their second rounder.
Kansas City Chiefs: DE Tyson Jackson (77)
A 3-4 defensive end is not going to add much in Madden. They would've been much better off trading down or taking Aaron Curry. With no other picks to supplement that one at least they have their QB in Matt Cassel.
San Diego Chargers: OLB Larry English (75)
There were much higher rated OLB's on the board. With a position that is already strong in Madden the Chargers could've gone elsewhere for a pick that would've made a difference this year.
Dallas Cowboys: No picks
The Cowboys are paying for the Roy Williams trade. Then they traded out of the second round. No picks means no help.
Chicago Bears: No picks
The Bears are paying for the Jay Cutler trade. Then they traded out of the second round. No picks means no help. Can't be too disappointed though now that they finally have their franchise QB.