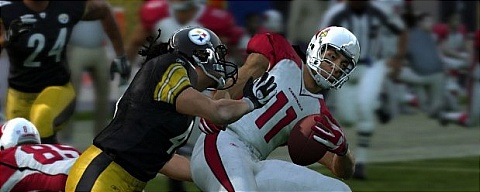 A "key features" list for Madden 10 has been posted up on on the Playstation website. At first glance the list comes across as somewhat vague but it actually contains a good deal of information much of which is new. The embargo for Madden comes up on Wednesday so I'll be able to talk more about some of these features then.
Pro –Tak™ – This all new animation technology provides unprecedented control over the outcome of every play. Drag defenders towards the first down marker, including up to 9-man gang tackles, fight for a fumble at the bottom of the pile, and evade the rush with all-new quarterback avoidance actions. Enhanced play at the line of scrimmage features a new blocking system that allows the quarterback to step into the pocket and gives the defensive line more control over the rush.
Unprecedented Authenticity – Referees peeling players off a fumble pile, the chain gang rushing in to measure for a key first down, and all-new player equipment ensure that if you see it on Sunday, you'll see it in Madden NFL 10.
Fight for Online Dominance – Delivering the most comprehensive online offerings in franchise history, Madden NFL 10 includes new modes to satisfy the competitive and cooperative football gamer.
The Emotion of the NFL – New TV broadcast-style presentation and cinematic cameras bring the suspense and intensity of the NFL to your living room.
Enhanced Franchise Mode – Run each aspect of an NFL franchise: draft players, sign free agents, manage the salary cap – just like a real GM. Enjoy all of the action throughout the league via a new, network inspired highlight show.
Madden NFL Your Way – The most customizable version of Madden NFL to date! Alter gameplay options to adjust the experience to your liking. A revamped play calling system and menu takes you to kickoff faster than ever before. Speed up online matches with accelerated clocks, streamlined presentation and more.
The most notable aspect of this feature list is the "new (online) modes to satisfy the competitive and cooperative football gamer". Could that include the Online Franchise mode that people are hoping for? It looks like it at least remains a possibility. The cooperative part could be hinting at something along the lines of Online Team Play where each user would control just one player on a team. We'll be finding out what they have in store for Madden 10 when the online related announcements are made at E3.