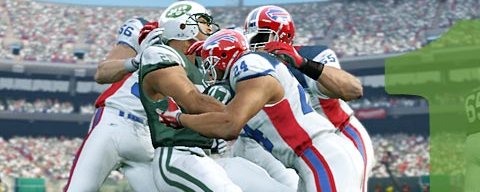 Jon Robinson at ESPN has posted up his "Five Things to Know" article for Madden 10. Amongst the features discussed are Pro-Tak (the new tackling animation technology), the QB avoidance stick, the Wildcat, and the new player ratings philosophy. You can read the article in full here.
"Pro-Tak is a new animation technology that helps drive several new features in the game," explains Fraizer. "This includes nine-man gang tackles, a brand new pocket for the offensive line, steerable blocks, steerable tackles and the fight for the fumble feature that really lets you fight for that ball at the bottom of the pile."
The article goes over much of what was shown at the EA Sports Preview event last week, of which is under embargo until tomorrow. However it is good to hear that they're developing to avoid the Wildcat being overly effective or exploitable, which was one of the concerns that remained after the two blog postings on it failed to address the potential issue.