With UFC 2009 Undisputed right around the corner there is a lot of excitement building. UFC 98 takes place on Saturday May 23rd putting it the weekend after the release of the game. The excitement around the game could certainly peak interest in that event.
My good friend and UFC expert Jerkfacefave is here to provide his analysis of UFC 98. This is a look at the first half of the card and the second half will come later this weekend. We will also be playing out three of the fights with the game online and posting up the videos prior to the event that Saturday night. Plans are also in the works for a UFC 2009 league which will be coordinated in the forums. Keep an eye out for news on that in the near future.
Lightweight: Dave Kaplan VS George Roop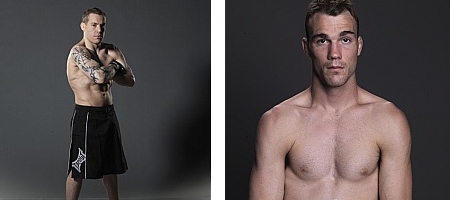 Kaplan comes into this fight after a loss to Junie "the joke" Browning via arm bar. He put up a bit of a fight in that contest, but for all intents and purposes was controlled from start to finish. Worse then that Kaplan seemed to quit in the second round, a pattern that he continued from his TUF stint when he was destroyed by Phillipe Nover. He is overconfident in his sub-par striking game and though he is a former NCAA division one wrestler does not seem to use that background as an advantage in his UFC contests. Above average power and a respectable chin are about the only things I think that Kaplan has going for him in this fight.
Roop also comes in off a loss in a questionable decision and had mixed results in his TUF time going two and one with two decisions in his favor and a kimura arm lock loss to (like Kaplan) Phillipe Nover. Roop is a tall fighter for a light weight at six feet, and has the good reach to match his height. He does lack power and can get sloppy in standing exchanges. He also has shown a tendency to negate his reach advantage by being over aggressive by looking to clinch too often.
As far as intangibles go Roop has as big a heart as anyone and should have a clear advantage there. I don't see this fight going to the ground much as both of these fighters like to trade on the feet. This fight will come down to who can push the pace in the third round and land scoring blows on a low gas tank. I think that fighter will be George Roop. He takes the three round decision in this one.
This match is too even to get a good line on. No action on this fight.
Welterweight: Yoshiyuki Yoshida VS Brandon Wolff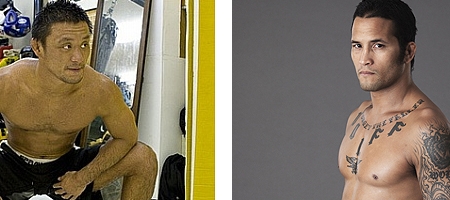 Yoshida enters the cage coming off of a huge highlight reel knockout loss to Josh Koscheck. He is 1-1 in the UFC finishing Jon Koppenhaver off in his debut. Yoshida is a well rounded fighter with polished stand up and world class judo skills. His ground and pound is also a major concern for any fighter that faces him. He is not well known in the US but is considered one of the best 170 pound fighters to come out of Japan. It's hard to gauge how Yoshida holds up over the course of a full fight as he as not been out of the first round in his UFC career.
In Brandon Wolff you have a game fighter that is average in all aspects of the game. He is a very tough fighter that will not hesitate to trade with an opponent. He comes to fight and always is in shape to go the full three rounds.
In this fight though there won't be need for anything more than the first round. Expect Yoshida to be far too technical for Wolff on the feet, leading to a highlight Yoshida throw after Wolff shoots for the desperation take down. A bit of ground a pound and this ends by TKO in the first.
Yoshida is a heavy favorite in this fight at -550. With these odds I don't see any value in a bet here as Wolff does have the power for a flash knockout. No action on this fight.
Lightweight: Phillipe Nover VS Kyle Bradley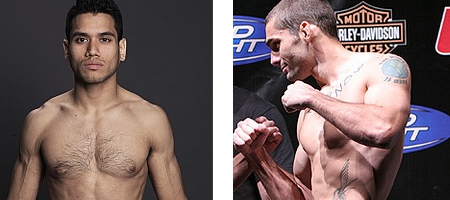 On the Ultimate Fighter, Nover was noticed by Dana White due to his highly aggressive style and technical soundness in all MMA disciplines. He is a powerful and accurate puncher who has the kicks to match. On the mat he has an overpowering top game and dangerous submission skills. The only weakness he has shown comes when he faces guys with better wrestling. He struggles with take down defense and seems to become frustrated on the bottom.
Bradley has underwhelmed in his UFC fights having been stopped in both. He is heavy handed and has better then average athleticism that he relies on to avoid damage. Bradley can be a sloppy striker and has at best average ground skills.
Bradley will be surprised to find that Nover is the faster fighter here; and will become lost on the feet as he will not be able to land clean shots. He will then over commit to throwing bombs and open himself up to an easy double leg take down. From here Nover will not take long to find an arm bar or some flush landing elbows that end the fight in the middle of round two.
This fight looks like a feeding session for Nover as the UFC seeks to build him as a marketable commodity. The odds reflect that with Nover at -365 leaving little to no value in this contest. No action on this fight.
Heavyweight: Pat Berry VS Tim Hauge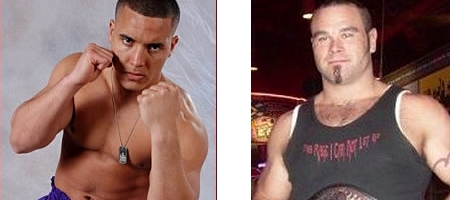 Berry is the only man in this contest with any UFC experience as he TKO'd Dan Eversen at UFC 92 in the first round. That fight was a slugfest and I did not get much of a feel for what kind of fighter Berry is other then the fact that he swings wildly. Hauge makes his UFC debut here and will likely come in close to the heavyweight limit of 265 lbs. Other than that I don't know much about this fighter either.
Only taking a guess here, but I would go Berry as often times the bigger heavyweights gas out very fast (Lesnar excluded of course). Barry by TKO early second round. No action on this fight.
Welterweight: Brock Larson VS Chris Wilson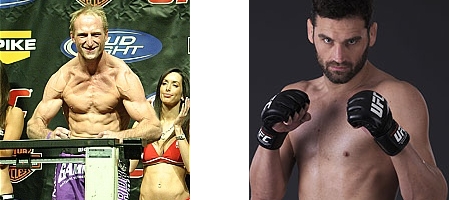 In The WEC Larson did a five fight stretch that was only tarnished by one loss, that being to Carlos Condit. In fact he has only one other loss on his 28 fight record at the hands of the very tough Jon Fitch. He has managed to compile 26 wins using his superior wrestling skills to get opponents to the ground. Once he has the fight there he applies his highly underrated BJJ game more often than not to great success. If he stays on the feet Larson has better the average power and is a pretty well put together striker. Another attribute that Larson does not get enough credit for is his motor. He can sustain a high pace through the distance of a fight that many fighters have trouble keeping up. The only knock on Larson is that he takes a lot of risks, and exposes himself a bit too often.
Chris Wilson is a rounded fighter but leans well towards his striking game. He shows a technically sound striking game, but lacks the one punch knockout power. On the mat he is average at best and normally looks to avoid the ground game.
Of the WEC crossovers that came to the UFC after they closed their welterweight division, Larson was one of the most unheralded. In this fight he will show that to be a mistake. Wilson will be taken down pretty early in this fight where he will find himself the victim of some heavy ground and pound. Look for him to give his back up under the pressure that Larson applies leading to a middle first round submission victory.
As of now no odds have been posted for this fight because Larson is stepping in to replace the injured Josh Koscheck. If -305 or better odds are posted for Larson there is good value in a mid size play here, say two to three units. In the unlikely event that it posts under -200 I will increase to four to five units.
Lightweight: Sean Sherk VS Frank Edgar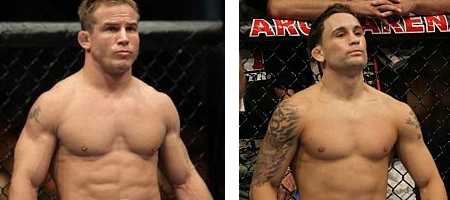 The Former lightweight champion, Sean Sherk comes into this fight off a decision win over Tyson Griffin. He is an elite wrestler with good strikes when the fight is standing. Still, Sherk always looks to use his hands to set up a take down. His top game is second to none and he has dangerous elbow strikes when takes the fight there. The X-factor for Sherk is his stamina. In the later rounds when his opponents begin to fade is when Sherk's extreme cardio training often leads him to victory. Most other fighters just can't keep the pace that he sets. The only flaw that he exhibits is that he is not a finisher. He has allowed them to go to the judges in about 60 percent of his fights and that's never a good thing.
Edgar is very similar to Sherk. He relies on his wrestling, has good cardio, and most of his fights go to decision. Only one of his UFC fights have not gone to the judges and that was almost two years ago.
I don't know what Joe Silva was thinking with this one. This looks to be a very dull fight on paper and I don't see how this does not go to a decision. Experience will be the determining factor in this match, and Sherk has is in spades over Edgar with four fights to one on average.
Sherk wins this one by unanimous decision in a snore-fest. The line on this fight is at -275, worth a small play on Sherk. One to three units at best.
In UFC 2009 Pastapadre (Sherk) will face Jerkfacefave (Edgar)