After looking at the first half of the card for UFC 98, which admittedly isn't very strong, there are some intriguing fights at the top. Continue on for analysis from Jerkfacefave on those and notes on which one of us will be controlling the fighters in the preview we will be putting together with UFC 2009 Undisputed the week prior.
Middleweight: Dan Miller VS Chael Sonnen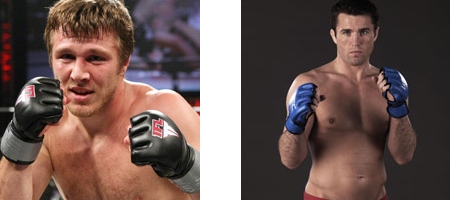 It's been three trips and three wins in the cage for Dan Miller. He has looked good all around, both on the feet and on the floor. This fight will be a pretty big step up in competition for him and he will need to use his above average speed to have a chance in this fight.
For Sonnen this fight looks to be a bit of a tune up after he was dominated by Damien Maia. Sonnen is a very good wrestler that likes to keep a pressured pace on his adversaries. He uses his good range and varied strikes to stifle opponents. This lets him set up easy take downs where Sonnen uses a solid top game and submission defense to lead him to decision wins, as will probably happen in this fight. The lack of quality competition is going to hurt Miller in this fight. I see him getting out pointed in this contest leading to a decision loss.
Sonnen takes home the victory in a competitive, but one-sided decision. No line is currently posted on this fight. No bet unless Sonnen gets better then -200. If that's the case then one to two units.
Light Heavyweight: Krzysztof Soszynski VS Andre Gusmao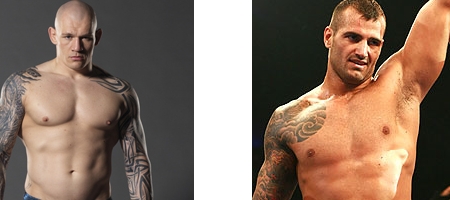 Houston Alexander suffered a broken hand leading to Soszynski taking this fight on short notice. That puts him at a disadvantage considering he just competed in April when he submitted Brian Stann. He is a highly unorthodox striker that uses an almost completely wide open stance. He uses angles well and has the power to finish fights by knockout. On the ground he looks almost exclusively for the kimura and has finished both of his fights in the UFC through it. Also his conditioning is great for this weight class.
Gusmao looks to rebound here after a loss to Jon Jones. He is a BJJ fighter with limited striking skills that he only seems to use to set up take downs. He is a tough guy as he showed against Jones as he was dominated on the feet but still survived to the end of the fight. Expect a similar result here as Soszynski will be too good for Gusmao on the feet. I think that there will be a KO or TKO in this one leaving Soszynski's perfect UFC record intact.
Soszynski wins by KO in round two. I will not be wagering on this fight unless by some crazy luck Soszynski is posted as an underdog, which is very unlikely. But even then it is better beware with Soszynski having so little time to prepare.
Middleweight: Drew McFedries VS Xavier Foupa-Pokam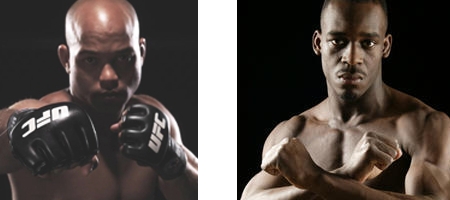 A Team Militich product, McFedries is a prototypical sprawl and brawl fighter. While he is on his feet McFedries throws hands at will and looks to avoid take downs. He has tremendous power and is a knockout artist, getting all of his UFC victories by way of stoppage. If you look at his losses you can see where Mcfedries is weak. He has three submission losses in the UFC, so obviously his ground game is more then a little suspect.
Jumping on the scene just last month Foupa-Pokam was a tough test for Denis Kang in a decision loss. He is on this card due to an injury to James Irvin. He is a relative unknown in this country, but is considered one of France's top prospects. It's hard to call this fight with Foupa-Pokam only having one fight in the states.
Not only can I not see a clear winner here, I would not bet on this fight at any odds. There are just too many variables and unknowns in play here. Foupa-Pokam looks like the more complete fighter however McFederies has huge power in his hands. It's a coin flip.
Welterweight: Matt Hughes VS Matt Sera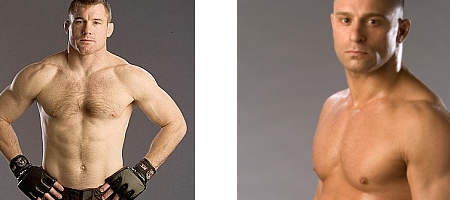 Former champion Matt Hughes is considered by many to be the most dominant welterweight of his era. He uses elite wrestling and relentless take downs to get fighters down and pound them out. He is solid on the feet as well as he shows good boxing skills. Hughes' only problem is that at 35 he has lost a step. The power is still there but he just can't match the speed of the welterweight division's top competition.
Matt Sera is a tough BJJ black belt with an average striking game. You would think that Sera would show some submission wins in his pocket but he has only secured one in the UFC. He protects himself well standing and has a little power in his punches. His striking is not all that effective though as he rarely throws any kicks or combinations.
This fight is a major grudge match as both fighters truly dislike one another. I think that Hughes will be too strong and too technical on the feet for Sera. Most of this fight will happen on the mat. Hughes will have little problem staving off submission attempts (just look at Royce Graice and Carlos Newton for reference) as he grinds out a late stoppage due to strikes on the ground. Hughes gets his revenge here and finally shuts Matt Sera's mouth once and for all.
This is my favorite fight of the night as I see Hughes being highly undervalued at -250. He has more then handled fighters in the same mold and better then Sera throughout his career. Hughes by TKO in the third. Going for a big bet on this one with eight units.
Light Heavyweight Title Fight: Rashad Evans VS Lyoto Machida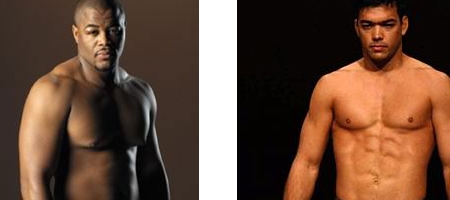 In this battle of undefeated fighters Rashad Evans steps in on quite a roll. He has his last three wins against two former TUF champions and a future UFC Hall of Fame inductee. During this stretch Evans has developed into a fantastic striker with the devastating power to match. He has always possessed superior wrestling ability and athleticism that were enough to lead him to victory early in his career. With the striking game added into his arsenal he has become a dangerous champion for anyone to challenge.
The only karate master to have any measure of success in the modern era of the UFC is Lyoto Machida. He has stifled all six of his UFC opponents with his elusive, trapping style. Machida is one of the most creative strikers in the UFC coupled with his lightening speed in both his hands and feet. His defense seems almost impregnable as no one has been able to put him in danger in the cage. Only Tito Ortiz has even been able to attempt a submission on him. Machida has been criticized for this style as some say he is unwilling to engage and trade strikes. As of yet though no fighters has even come close to figuring him out.
This fight poses some tough questions. Can Evans close the distance? Can Machida Stop Evans powerful shots? Will this fight become the touch and go decision fight that Machida excels in, or will Evans be able to get Machida on the mat?
Evans will struggle in the first two of three rounds of this fight as he tries to track Machida down. Around the third round, Evans' speed will finally get to Machida and he will secure a take down. Expect Evans to be too strong for Machida on the mat leading to a TKO stoppage. If this fight goes to a decision than Machida takes home the belt.
There is value here as the champion Evans is a pretty big underdog at +160. He is just too talented to walk away from that kind of a pay off. A risky bet here, but the potential payoff is just too sweet going five units on this one.
UFC 2009 Undisputed
Pastapadre (Sera) vs Jerkfacefave (Hughes)
Pastapadre (Machida) vs Jerkfacefave (Evans)