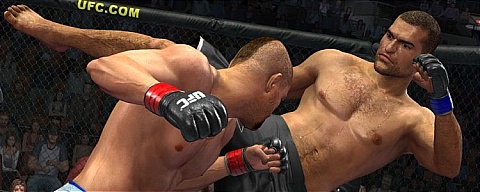 Here are the details on the UFC 2009 Undisputed league as headed up by commissioner Jerkfacefave. Event recaps and news will be posted on the site with the inter-league communication being held in the PFC forum. With the game releasing on Tuesday the league is going to come together quickly so if you'd like to participate read through the info and make sure to sign-up!
Goal of league: To hold weekly or bi-weekly (depending on community interest) fight cards that are modeled from the UFC pay-per-view structure. Will be awarding championship "belts" across the five weight classes based on participant performance.
Structure of league: Players will be able to pick fighters in any weight class. If they choose, players can request to be more then one fighter on the game roster, as long as that fighter is not the same weight class as their other character. The commissioner will be responsible for maintaining the league rosters , and changes can be made at his discretion. At the formation of the league players will send a list of 5 to 10 fighters that would like to control in the league. One fighter will be chosen from each weight class, along with one backup selection. The request to join will be formatted to indicate preference. See example below:
Light Heavyweight: Forrest Griffin, Lyoto Machida
Lightweight: BJ Penn, Nate Diaz
Middleweight: Damien Miai, Aderson Silva
Heavyweight: Gabreial Gonzaga, Frank Mir
Welterweight: Matt Hughes, Jon Fitch
At least 8 fighters must be selected from a weight class for it to be active in the PFC. Weight classes may be cut if there is little demand for any certain division.
Fighter selection will be drawn at random from the forum sign-ups.
"Pay-Per-View" execution: The first event will consist of four title fights, and four number one contender fights. Fights will be selected by the commissioner at random for the first event. Subsequent event fights will be selected based off participant performance. After the first event, players will be contacted and offered a "fight contract" that the player must accept to be included on the card. Fights are to be completed within one week of the fight card announcement. Failure to complete a fight will result in the fight being called a no contest. Wins will not be awarded for fights that are not completed. Players that do not complete contracted fights will be considered for removal after the second occurrence.
Fight rules: Matches can be fought in any manner that the player sees fit. There will be no complaining tolerated about the manner in which a league members play the game. Standard ranked matches apply.
Results and rankings: Results are to be reported by the fight winner in a prompt manner. They can be posted in the forum or reported directly to the commissioner.
In title fights winners will be expected to provide at least a brief recap of the fight.
Rankings will be determined by the commissioner. These rankings will dictate the players place in line for a title shot. Losing fights will lower a fighters ranking. Losing title fights as a challenger will have a greater effect to lower rankings.
Player responsibilities: Players are not responsible for activity in the league unless they accept a "fight contract". Players that are offered multiple fights and refuse will risk having their fighter released into the fighter pool, at the commissioners discretion. Title holders will be required to defend titles at least every other card, or their title may be striped, at the commissioners discretion.
Miscellaneous items: Players can join at any time with any available fighter after the league has been formed. Preference will be given to senior members when choosing fights. In the case of fighters that can compete in multiple weight classes, a player can not select a second character that is in either of the weight classes that the two weight class eligible fighter is in. Players that have frequent disconnect problems will be reviewed to see in their connection is acceptable for online play. This can be done by playing the commissioner.
Created fighters: Using created fighters instead of established ones has been discussed but until we can ensure balance in doing so we won't be advancing on that just yet.
Start date: The league will begin forming this week and will kick off with PFC 1 the week of May 25th.
*If online performance is poor the league setup will be adjusted, trimmed down, or canceled outright. However early indications are encouraging.