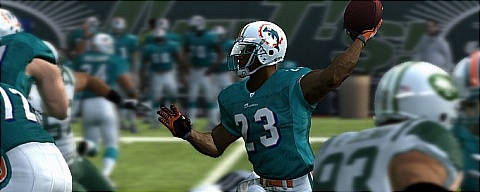 ESPN has a new feature up with Dolphins RB Ronnie Brown discussing the Wildcat formation. While its use in Madden 10 is mentioned a couple times, this article is more about the details of the formation and what someone running it looks for when on the field. You can check out the full article here.
Fortunately for us, everything worked out. The thing about the Wildcat is you're able to get all of your playmakers on the field at the same time. It puts you in a position where the defense can't key on one individual, and as you get the ball to different people, it throws the defense off.
Brown mentions the use of Dolphins rookie Pat White for this upcoming season. Hopefully EA has planned ahead and made it possible for two different players (possibly being able to designate who) to be used in the formation from each team. I'm still greatly anticipating getting to break Seneca Wallace out for a few plays a game in the Wildcat this year.