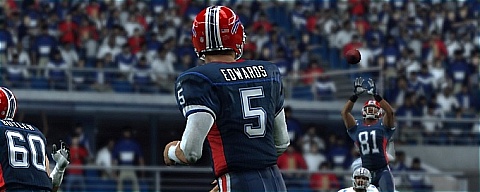 As noticed in the video revealing online co-op in Madden 10 last night lead designer Ian Cummings makes reference to Online Franchise. Obviously most are now expecting that Online Franchise is the big announcement coming on Monday. It does seem likely, though I remain somewhat hesitant to jump right in to that assumption and get my hopes up too high.
Given that EA isn't going to clarify anything to do with online co-op until Monday that makes me believe that the two are tied together in some fashion. It could be that (as I guessed weeks back) they have a combination of the two. I would hope though that EA wouldn't use the term Online Franchise unless it was true to the meaning and incorporated all aspects of the mode including the draft and free agency. Basically it has to be to Madden what Online Dynasty is to NCAA. Simply offering the ability to take your franchise games online and play with a teammate would be a pretty big letdown to most after all this build-up. We'll see how it all plays out on Monday.
Something else interesting that I came across in an ESPN video was the inclusion of an alternate jersey for the Seahawks. Rumor is the team will be introducing a lime green 3rd jersey and wearing it on one or two occasions this year. To date though the jersey in question has not been officially revealed. Despite this in the video where Mark Sanchez is playing with the Jets as Aaron Curry controls the Seahawks the lime green alternates are being used. I'm curious to find out whether these are the official alternates as provided by the NFL or if they were just created based on a mock-up so as to provide the team with an alternate resembling what they might wear this season. (Update) I have confirmed that they did have some form of reference for these.