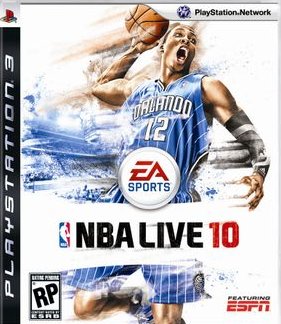 Dwight Howard has been chosen as the cover athlete for EA Sports NBA Live 10. Howard put up over 20ppg and nearly 14rpg during the regular season and in the postseason has averaged 21ppg and 15rpg. He has helped lead the Magic to an unlikely Eastern Conference Championship and is now fighting for the NBA title.
Featuring several innovations to the core gameplay experience and online game modes, NBA LIVE 10 is bringing a renewed focus to the long-running EA SPORTS basketball franchise. The groundbreaking Dynamic DNA service, driven by Synergy Sports Technology, will make a return in NBA LIVE 10, with significant improvements that will allow players to connect their game to the NBA season like never before.
After a year where EA went with boring basketball cover athletes in Tony Parker and Kevin Love, Howard brings back some of the excitement that used to be had with Live's cover. In recent years Live has featured marketable and on-the-rise superstars such as Tracy McGrady, Gilbert Arenas and Dwayne Wade. Continue on for the announcement trailer and leave your thoughts in the comments.