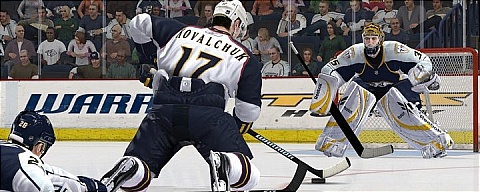 Thanks to the product listing from Gamestop we have new info on NHL 10. Until now most of what has been relayed has been about the physicality and fighting enhancements. However this features list provides details on specific modes such as a new GM mode and Playoff mode with improvement to playoff atmosphere.
New Battle for the Cup Mode: Experience the intensity of NHL playoff hockey. Play through injuries, intimidate rivals, and match lines as storylines carry across the entire series.
Build a Stanley Cup Champion: All-new GM mode lets you scout amateurs, put players on the trading block, hire staff, and earn experience points to become a legendary GM.
Battle on the Boards: Shield the puck with your body, kick-pass it to teammates, or pin your opponent against the boards with an all-new board play engine.
All-New First-Person Fighting: Change the momentum by trading blows with an NHL enforcer. Tug an opponent's jersey to gain an advantage—before or after the whistle.
Become the Ultimate Pro: Improve your draft status by dominating the prospects game, then use new coaching tips, improved teammate AI, and detailed position instructions as you build the ultimate career.
Capture Multiple Championships: The coveted EA SPORTS Hockey League Cup is always up for grabs as new seasons start on a monthly basis online.
New Intimidation Tactics: Fore-check defenders, pressure the puck, and finish checks to force your opponent into mistakes, as players fatigue, bobble passes, and avoid collisions under threat of physical pressure.
All-New Post-Whistle Action: The action never stops! Antagonize opposing players, finish checks, retaliate for late shots on goal, draw penalties, and pick fights—all after the referee blows the whistle!