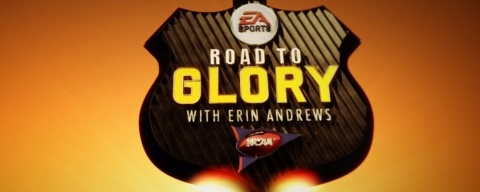 Today brings the raising of the embargo on the Road to Glory mode in NCAA Football 10. There will likely be media previews out on it later today. Until now all we've known about the mode is that it represents a revamped Campus Legend with the addition of Erin Andrews. EA has now released their official description of the mode and a video about it which you can watch here.
The new Road to Glory mode allows you to choose a position, embark on a college career and then reflect on your greatest moments through video presentations presented by Andrews. For the first time ever, your actual in-game highlights will be featured in these broadcast-style presentations. Plus, an all-new, completely redesigned 3-D dorm room prominently displays triumphant moments through photos, trophies, NCAA Football news and more. New online leaderboards allow you to compare your legend versus every other legend across the nation. The comparison of each position can be sorted by everyone who is playing that particular position with the same team, the same conference or can be compared across all NCAA teams.
I used to play a lot of Campus Legend mode until the last two years where it has gone largely untouched. It is difficult to say if the new presentation and additions will be enough given there were other underlying issues with the mode that needed to be addressed as well.