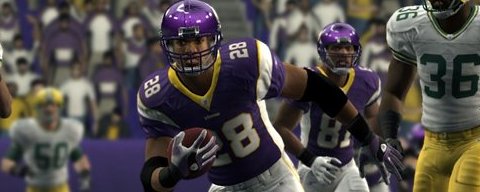 This week's Inside EA Blog for Madden 10 covers improvements that have been made to play calling and the playbooks. A lot has been done to give each teams their own identities based on how they play in real life as well as how they could change in the game due to player movement. You can check it out the article in full here.
Another example we'll showcase is the Colts. Again, researching their playcalling percentages on first down, they are more of a passing team with Peyton Manning (56% pass on first downs during the regular season) we set their Overall Pass percentage to exactly 56% for First Downs. When we dig a little bit deeper into this same group (1st and 10), it should also be known that they have 8 different run plays that they'll choose between. Of these 8, 6 of them are stretch plays. Having this ability to choose the play type per situation really is what sets the teams apart from each other.
While a system like the DNA in NBA Live works extremely well for individual tendencies, football is more predominantly about the team tendencies. Hopefully there is more differentiation between styles of play and play calling from the CPU this year as the blog suggests.