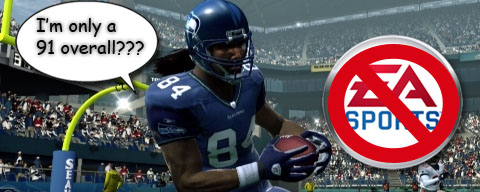 Every year player ratings are always a hot topic. This year will be no different. Since, like you, I am but a mere consumer, I will never have the privilege of actually being rated in Madden. I've always wondered what it was like to be on the other side of the fence. What if I was player? Would I pay any real attention to my ratings? Would I care what someone locked in a room over at EA Tiburon thought of my skills? Well Seattle Seahawks wide receiver T.J. Houshmandzadeh helped answer my question in an interview with Colin Cowherd of ESPN Radio.
"I understand I averaged 10 yards a catch, but it's the offense, not me. I'm not playing Madden no more until they get my rating right. … I used to be the best in the world at Madden. I'm going to miss not playing it, but until they do me right, I'm not playing it any more."
Just how "awful" is Houshmandzadeh's rating? It is a paltry 91 overall, which slots him in as the 6th best WR in the NFC. Who's rated ahead of him you ask? Larry Fitzgerald, Steve Smith, Anquan Boldin, Roddy White, and Calvin Johnson. All of which, are better than T.J.
I think Pastapadre can look forward to a great season from Houshmandzadeh in Seattle since he obviously has a chip on shoulder and has added motivation to perform. I find it hard to believe he'll actually avoid purchasing Madden. Afterall, it is the only NFL game out there, and he seems like he's an avid enough fan if he's letting ratings bother him. Or he could have meant it all tongue and cheek and it's really not a big deal to him. Either way, there is a player edit button he can always use to make himself a 99 ovearll.