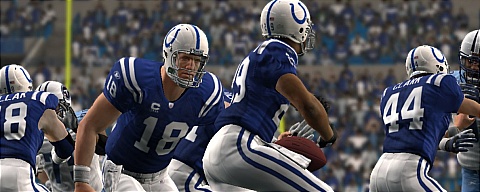 IGN has posted up some impressions and videos displaying the Online Co-Op mode in Madden 10. After laying out the basics of the mode they go on to praise the offensive side of the ball but express difficulties with defense. Primarily the faults come from the camera angles and how the camera shifts when switching to a different player. Lag was also cited as an issue which is not encouraging. Madden hasn't had too much trouble with lag the last few years, rather it has been disconnects that has plagued the online experience. You can check out the full article here, offense video here, and defense video here.
What now doesn't make complete sense to me is when it was let on that the mode was just two users vs the CPU it was described as a way to learn the game and improve with the help of someone else. I'm not sure how much anyone can improve on their general Madden game by playing from the individual camera angle perspectives. This feeling is solidified even more in the article when it was mentioned that the user controlled WR  just ran whatever route he wanted to and that was found to be a successful strategy.
So it appears that Online Co-Op could be a diversion and semi-enjoyable but won't have much value. I do believe though this is a precursor to a full Online Team Play type mode to come in Madden 11 that would feature anywhere from 3 vs 3 to 5 vs 5 user games. Hopefully the feedback gathered from this year's co-op will be strongly considered for whatever way they look to expand on it for 11.