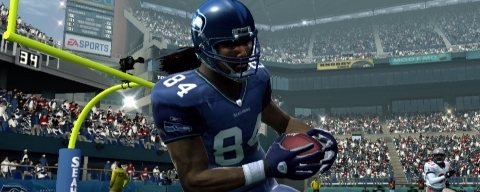 Earlier this week Seahawks WR T.J. Houshmandzadeh took issue with his ratings in Madden NFL 10. NFL players complaining about their ratings is nothing new but regardless the story as gotten a great deal of attention. So much so that Housh and Cowboys WR Patrick Crayton were invited to be guests on ESPN's First Take to debate ratings with Donny Moore and Ian Cummings.
Of course EA is loving the attention this is bringing to the game. Ratings have always provided exposure and led to a lot of discussion. Debates from players can't be taken too seriously and are more entertaining than anything. The players are looking for what they deem as respect and the self-promotion of being in the news and Madden takes advantage of the spotlight being on the game.
Check out video of the TJ segment here and watch the Crayton portion here.  Leave your thoughts in the comments!