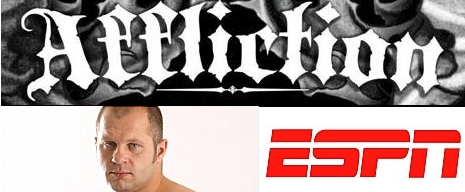 A little more then a week ago, Affliction MMA had a card slated for Aug. 1 with a main event of Fedor Emelianenko against former UFC champion Josh Barnett at the Honda Center in Anaheim, California. This was a super fight that many MMA fans had been waiting to see for years. It also presented EA Sports upcoming "EA MMA" title with a fantastic piece of free advertising for their strongest commodity, Emelianenko.
It was not to be however as on July 22nd the results of Josh Barnett's random drug test came back dirty. With Barnett out of the picture, a whirlwind of events took place over the last week.
Affliction first scrambled to find a suitable opponent for the widely considered to be number one heavyweight. Sub-par names such as Jeff Monson, Vitor Belfort, and Brett Rogers were thrown around as possible replacements. Affliction's brass assured fans that a fight for Fedor would be worked out as all this went on.
Just as suddenly as things began Affliction dropped another bomb on the MMA community. They elected to cancel their third event, fold their MMA promotion, and become an official UFC sponsor. In the span of less then a week EA MMA went from potentially 300,000 households seeing their best signed fighter in a completely non-UFC associated event, to him sitting at a table with Dana White discussing possible contract terms.
As it stands now there in no legitimate competition to the UFC in the Pay-Per-View market. The odds of Fedor fighting on American TV for a promotion other the UFC are slim to none now.
This leaves EA MMA in a highly compromised position. Their best fighter, Fedor Emelianenko has spent three minutes and fourteen seconds on television in the last year and a half and is currently in talks with the UFC. The most well known fighter and apparent cover athlete Randy Couture is back in the UFC fold for the foreseeable future. They do have Tim Silvia, who was knocked out by 45 year old boxer Ray Mercer with minimal MMA experience in less then a minute little more the a month ago.
They only thing positive that EA MMA has going for it right now is the signed fighters linked with the Showtime promotion Strike Force. But at this point it is still a small organization and they do not conduct Pay-Per-View events.
Things may get worse on July 31st quickly if UFC 100's events are any indication. For the first time that anyone is aware of, it was confirmed that ESPN executive John Skipper, widely regarded as the "No. 2 guy" at the sports-media powerhouse, was in attendance at UFC 100. Dana White's July 31st press conference is said to "Announce some big things, We're working on some big things," "It's going to be a lot of crazy things. … There will be a laundry list of things addressed."
Could this be a deal with ESPN, or the signing of Emelianenko? Only time will tell. I count myself as an EA Sports fan, but I dont see how they can compete with the THQ title in the future at this point.  Either one of these events occurring would seem to be a knock out blow to EA MMA before they even get to the cage.