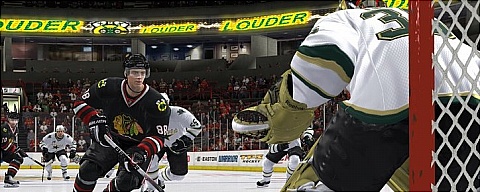 There has been a lot of discussion recently over the pre-order bonuses that EA along with Gamestop have been offering. For NCAA Football 10 it was an additional 13 Teambuilder slots, while Fight Night Round 4 and Madden 10 offered early or extended demos. With the release of NHL 10 approaching the bonus for that game has been revealed.
Reserve NHL 10 and get the in-game Kane-Bauer boost Pack. Patrick Kane's Authentic Bauer Gloves, Skates and Stick. Plus a 9 point boost for your be a pro or EASHL Player. Available online or in-store while supplies last.
While something along these lines is preferred to the demo situations because it is more of a bonus than it is penalizing those who don't go out of their way to purchase at Gamestop, it isn't a perfect situation either. I'm not thrilled to see that people will be getting a free boost to their EASHL players while everyone else will be at a disadvantage online through no doing of their own. This actually looks like something that will be available via paid downloadable content amongst other options. Given the level of cheating that has gone on in EASHL it is somewhat disconcerting to think that now they may be promoting DLC cheats that can be used in the mode.
Of course the most ironic thing is with the used game market cutting into profits, Gamestop is the main culprit of pushing used copies. So in turn EA has been attempting to undercut that by making new copies more appealing using one time codes included with the game and charging for those features if not purchasing new. The two sides are at odds with each other in that regard yet they are in bed together with this pre-order business. EA benefits by assuring the initial rush is all new copies while Gamestop gets people in their stores that may have bought the games elsewhere.