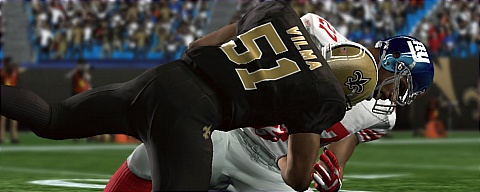 After announcing the owners for the Pastapadre Madden 10 Online Franchise last week there has been a lot of discussion going on in the forum. Much of it has to do with the system for free agency and salary cap that will be utilized, and when we come to an agreement on that I will post it up since many others out there may be interested in different ways to conduct that business.  Luckily that doesn't really become an issue until the first off-season so there is time to hammer that out.
Another area that must be addressed was free agency in the first season. The game will have some nicely rated players sitting in free agency in the shipped rosters and subsequently the release day roster update. Players such as Marvin Harrison, Edgerrin James, and Derrick Brooks will be available, although Plaxico Burress is being removed in that first roster update. Of course the highest profile free agent (with the roster update) will likely be Michael Vick given that it doesn't appear he will sign with a team within the next week. Surely many owners would be seeking to add him to their teams so a system has to be in place to deal with this.
So what I decided to do for this first season of free agency is hold a "lottery". Going in order of team ratings I assigned a number segment to each team. The Lions (being the worst rated) had the largest set of numbers while the Patriots who are rated the highest in the game had the smallest set of numbers. I then used the random number generator to come up with the full list of teams and their placement in waiver order. In cases where free agents are desired by multiple teams, the highest in the waivers will receive them but drop to the bottom. However teams are able to sign free agents if they are the only one requesting a particular player without losing their waiver position. A no-trade clause will be placed on all first season free agents so that an owner can't just pick someone up in order to deal them off.
The results of the Pastapadre Madden 10 Online Dynasty "Free Agency Lottery" are below.
1) Saints
2) Cardinals
3) Jets
4) 49ers
5) Texans
6) Browns
7) Dolphins
8 ) Redskins
9) Lions
10) Chiefs
11) Vikings
12) Bucs
13) Bengals
14) Broncos
15) Titans
16) Raiders
17) Rams
18) Falcons
19) Bills
20) Packers
21) Eagles
22) Colts
23) Cowboys
24) Seahawks
25) Jags
26) Steelers
27) Panthers
28) Bears
29) Chargers
30) Ravens
31) Giants
32) Patriots