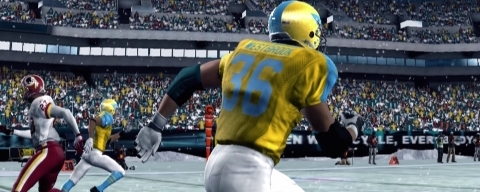 Here is another set of HD quality Madden 10 gameplay videos. Featured in this bunch of videos are the Redskins @ Eagles (in the snow), Packers @ Lions, Chiefs @ Raiders (in the rain), and Chargers @ Broncos (in heavy snow with the "wide" camera angle). Weather conditions really have an effect as you'll see players slipping on occasion. When that happens as a WR the icon disappears and as a QB you are momentarily unable to throw.
Tomorrow afternoon I'll get up some clips from online games as well as some franchise videos. Those of you following along on Twitter know I'm playing with the Dolphins and going with Pat White at QB due to a preseason injury to Chad Pennington. It has been a major struggle but I've been able to go 3-1 to start the season. On Monday I'll get up my full impressions to that point and continue various coverage throughout the week.
Continue on to watch the videos and leave your thoughts in the comments!