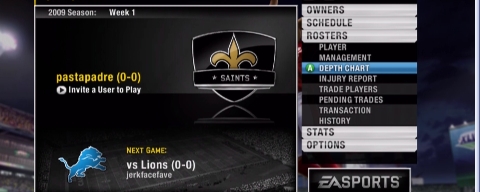 Online Franchise was instantly my most anticipated feature as soon as it was announced at E3. Since then there has been some disappointing news on aspects of the mode that would be missing. Despite that it still has potential to be a lot of fun and is certainly much more advanced than an online league. With the servers for Online Franchise having gone live as well as the website having opened up we wanted to test out some of the options and see how it all works.
First lets recap some of the areas of the mode that already were known to be lacking. There is no salary cap so free agency is unregulated and there is no CPU trade logic. There is no preseason and there are no sliders to be adjusted. Unlike regular franchise mode there is no halftime show or Extra Point franchise show. These are all elements that EA was up front about missing, and hopefully because the mode is run server side improvements or additions could end up being made at any time. I don't expect any of these things to make their way in this year with the exception of maybe the sliders.
So the first thing to do is either create the Online Franchise or join one. Franchises can be set to public but I suspect those will end up being a disaster. Invites can be sent out which makes it easy for people to accept, however it seems that the password for the league is still required to be entered even for those receiving an invite. I'm not sure why that is since now the password will have to be communicated independently when an invite from the Commish should be enough to grant entry.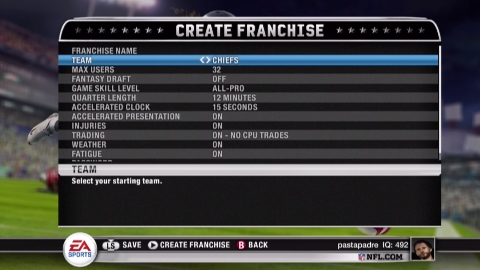 There are a lot of options that can be set for the games. The biggest let down of the mode for me so far is that there is no option for game speed. Right now online games are defaulted to "normal" speed which is not the same as the default offline "slow" that I have enjoyed so much. The games run faster online which has resulted in sloppier play. More sacks and more turnovers are the trend out of that. Not only am I disappointed that it is defaulted to that speed but really not pleased that they aren't offering an option to change it up for Online Franchise. This is something that hopefully EA will take care of an soon since I already know it will be affecting the quality of the franchises.
The max users for a franchise is 32 but there are several other options for this. It is probably worth just setting it to 32 unless it is a public league that is trying to contain itself so it can go at a better pace and maybe even make it through a season. You can either start with the current rosters at the time or do a fantasy draft. Difficulty level is adjustable, quarter length can be changed as well as accelerated clock settings. Injuries, fatigue, and weather can all be turned off if so desired.
The other main setting has to do with trades. There are trades "On" where anyone can trade with any team including the CPU. Trades "off" where no trades can be completed. And trades "On-No CPU" where trading is only allowed between users. Since there is no CPU trade logic, the CPU will accept any offer. So that should be the setting only in cases where all league members can trust each other or work out offers that everyone agrees with.
The main franchise menu looks similar to the online menu and navigates in the same manner. You have the list of owners, team and league schedules, rosters and player management, and stats. The Options area is where the Commish can advance the week, send out invites, or make changes to league settings.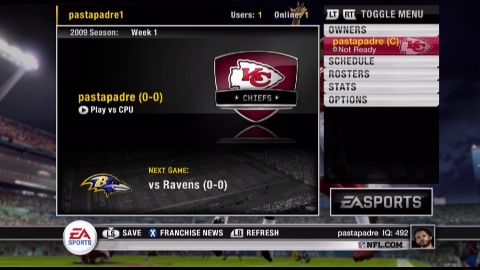 At first I thought this would be a major issue but there is a simple way around it. Trades can not be completed before Week 1 games. They can be offered but nothing can be processed until Week 2. For franchises where people are negotiating and completing trades prior to starting, the way around this involves free agency. Simply release the players being traded away and then sign the ones being acquired. They are then eligible to play in the Week 1 games.
There is a one hour timer between advancing weeks. If the games are actually being played this won't be bothersome, but for people who may have been interested in simming ahead this presents a roadblock to that.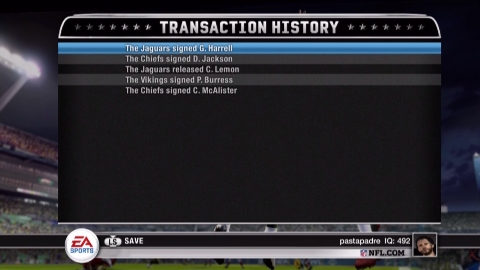 Myself and Jerkfacefave decided to play a week 1 matchup in a Franchise so I went with the Saints and he was the Lions. The game was on 12 minute quarters with 15 second accelerated clock. I like that set up even in the online games though the stats will show the kind of affect that the faster game speed had on our play. I pulled out the win 9-6 but it wasn't a pretty sight. 7 total INTs and 10 total sacks. Basically that game speed influenced how we had to play. Either pull it down for a sack (and in some cases get sacked before the drop back animation was completed) or throw the ball up for grabs. With the slower game speed there is time to read defenses and go through progressions, and I just don't get that same opportunity in these online games.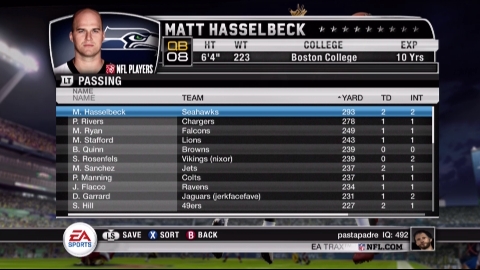 The website to view Online Franchises is now up and you can check it out here. Enter in your EA Sports World login info to access it. If you search for pastapadre by user you can take a look at the two franchises that I currently have active and browse the stats and rosters. One issue I immediately noticed is that the team logos are swapped on the game info pages. So my players and the game stats are listed below my opponents logo and vice-versa.  For members of the franchises the website also allows for changing depth charts and working trades.
There is still a ways to go before a conclusion can be made on the Online Franchise mode. While I'm excited about getting it up and going just a few small changes could go a long way. Adding an option for game speed or changing the "default" to slow and getting sliders added in would be reasonable requests at this point.