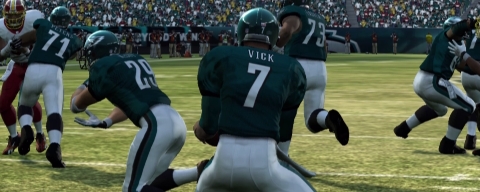 With the news that Michael Vick has signed a two year deal with the Philadelphia Eagles there is a lot of questions still left to be answered. How effective will he be after two years away from football? What will this do to the chemistry of the locker room and distractions from the media? How will the team utilize him on a team that already has explosive offensive weapons and why would they want to take Donovan McNabb off the field even for a few plays each game?
Looking at the move in terms of Madden 10, this could be one of the few destinations where Vick doesn't really make the team all that much better in the game. Vick is expected to come in with an overall rating in the low 70s and suspect accuracy ratings, though I think that is too high given the uncertainty surrounding him. As I've found from using Pat White having poor accuracy totally changes the way a QB can be utilized. On pass plays there wouldn't be much reason to put him in over a much more effective McNabb.
With so many other explosive weapons in Brian Westbrook, DeSean Jackson and Jeremy Maclin again there doesn't seem to be much need to put Vick on the field. Jackson specifically works well in the Wildcat already, though the idea would be Vick would have better passer ratings which could present more of a threat. I'm not sure why they would want another media circus after ridding themselves of T.O. but they've decided to take that on again.
What do you think of the Vick signing not only for the upcoming NFL season but also what it could mean for Madden 10? He is confirmed to be added into Madden with a roster update coming on Wednesday August 19th. Leave your thoughts in the comments!