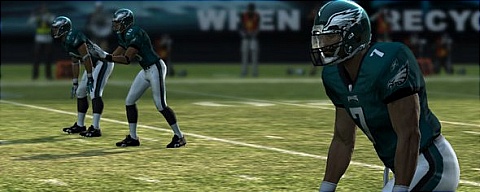 EA Sports has released the initial ratings for Michael Vick now that he is being added in via roster update to Madden 10 on Wednesday August 19th. Given that Vick will be able to showcase himself in the final two preseason games there is some opportunity to see his ratings adjusted based on his performance in those. After that though there will be a period of time (up to six games) where he will not be active so they will be locked in.
Personally I think he arrives a little overrated considering he has been out of the league for two years and there is no evidence that he'll display the explosiveness that he had in the past. For example Seneca Wallace, who is not as fast and doesn't run as often but is a much better passer, has an overall of 69. He comes off a season where he threw for 11 TDs last season to only 3 INTs and completed 58% of his passes within an offense that was decimated by injuries. In Madden 10 Wallace has only a 6 point advantage in awareness and mid-range accuracy. He does have a 10 point advantage on short accuracy but Vick is rated 15 points higher for deep accuracy. So the overall rating discrepancy probably comes from Vick's mobility advantage. However there is so much uncertainty around him right now that it could be argued he shouldn't come in higher than players who had good 08-09 seasons, that would certainly only be part of why most of the league wanted nothing to do with him.
This mirrors an issue with the ratings this year which is the rookies coming in higher than many established and proven veterans. Of course there has to be some guessing going into it, but rookies seem to get the benefit of the doubt and then can be moved up or down based on how they acclimate to the pros a little more abruptly. So this is probably similar to how Vick arrives and will be treated. I'd like to see a "leadership" rating for QBs in the future that could marginally boost the players around them. That would help to separate some of the best QBs from the questionable ones even more than the ratings do currently.
Continue on to see the full listing of Michael Vick's ratings and leave your thoughts in the comments!
Overall: 73
Speed: 90
Agility: 94
Acceleration: 92
Elusiveness: 92
Awareness: 65
Throw Power: 93
Short Accuracy: 70
Mid Accuracy: 64
Deep Accuracy: 69
Throw On Run: 95
Play Action: 66
Carrying: 44
Juke: 92
Spin: 93
Ball Carrier Vision: 95