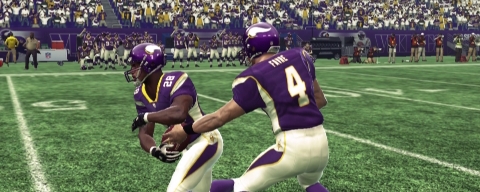 When Brett Favre announced his retirement my immediate reaction was I didn't buy it, and that certainly was a sentiment shared by others. Of course his un-retirement has yet again come to fruition as Brett Favre will be signing with the Minnesota Vikings today.
Obviously this is a big boost to the team in Madden 10. They already have a great running game and explosive wide receivers. Now they'll upgrade from the 69 rated Sage Rosenfels and 67 rated Tavaris Jackson to someone with a big arm that can take advantage of their speed and be effective in play action.
Look for an overall rating of 80-84 with the new scale and his drop-off at the end of last season. I've got an email in to find out whether Favre will be snuck into tomorrow's previously scheduled update, whether that update will be delayed, or if a special update will be coming shortly thereafter. Until he signs officially though no comment will be made on what action is being taken. EA did already have him created in case of his signing earlier this offseason.
*Update* Favre will be included in the roster update releasing tomorrow 8/19