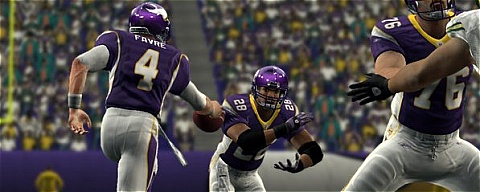 As reported earlier Brett Favre will be included in the Madden 10 roster update that is scheduled to go out tomorrow 8/19. Having him already created and ready to go surely accelerated the process allowing him to sneak into the update even though his signing today came as a surprise. The question becomes what QB has been removed from the roster, which will likely be John David Booty.
Above is one of the first images of Favre in the game with more found in the screenshot gallery. Meanwhile Sporting News First Cuts has obtained his full listing of ratings as he comes in at an 82 overall, which incidentally, falls right in the middle of my 80-84 prediction. Check out the ratings and leave your thoughts in the comments.
It should be interesting to see how Favre fares in these upcoming preseason games and how that could affect his initial rating. He has good knowledge of the offensive system being run but no experience with his teammates. Sporting News is right to question his deep ball accuracy rating considering his stats, though all in all I think it was a fair job with his ratings set. Unlike Michael Vick at least he played last year and performed well (at times).