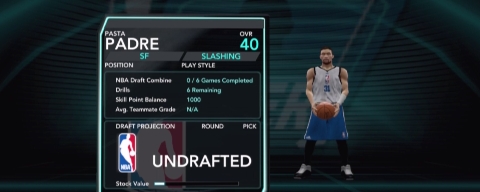 The downloadable NBA 2K10 Draft Combine released early this morning for the 360. The offering involves the beginning of the My Player career mode and presents an opportunity to improve your player prior to the NBA Draft through a series of drills and games. Continue on to read through my thoughts on Draft Combine along with a video and feel free to leave yours in the comments.
I downloaded Draft Combine and was looking forward to a glimpse at not only the career mode but NBA 2K10 gameplay. While I think the mode will be fun in the full context of the game, Draft Combine has turned out to be dreadfully boring and frustrating to an extent.
Probably most impressive is the player creation options. Specifically I like the ability to choose from a number of different play styles for each position. I went with Small Forward with a play style of "Slashing". Being able to look at and assign signature shots is great and it is nice to see there is limited selection for different types of moves and abilities being assigned. Many of them only offer basic packages until your player has improved to a certain rating. What can make a basketball game career mode unique more than some other sports is the numerous ways to personalize the player.
I started out with a 40 rating. Needless to say it is difficult to play with ratings that low. I missed multiple uncontested layups and while not a strong 3pt shooter have yet to hit one even when wide open. The ratings make the objectives you are assigned that much more difficult to complete and I found myself attempting to reach those goals specifically instead of just trying to contribute to a win which defeats the purpose.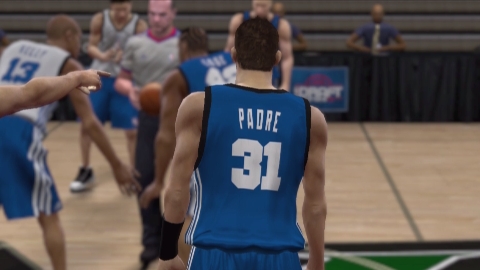 Most frustrating is the teammate rating. You start each game at a C rating and move up and down based on various happenings throughout. From what I've seen PGs and big men have a huge advantage as blocks and assists are the most consistent way to get a boost. Steals are also, but there is more risk involved there since it is possible you'll commit a foul. Do that and you get dinged on the rating as a poor teammate. I could understand if you're running around trying to steal and leaving your assignment behind, but every player commits fouls in real life and it doesn't make them a bad teammate.
The game also doesn't seem to take into account the situations. I've been hit on teammate rating after getting an offensive rebound and putting the ball back up as well as throwing up a three as time expired in a quarter (for bad shot selection). It also makes you question whether to play help defense because the guy you're checking could be left open for a shot and making that would hurt your grade. And apparently every time I call for the ball it is a bad time and I take a hit for that. Essentially I'm playing the game and constantly questioning whether I should do something instead of playing it naturally.
Through three games I'm averaging 13pts, 6rbs, 4ast, 2stl, and 1blk. That is a pretty good line for a SF and I certainly was attempting to play realistically. Despite this I received an F grade in all three games. I don't expect the stat line to necessarily represent what the grade should be, but this is the result of attempting to play realistically at my position which is unfortunate. Maybe it is just a tough position and play style to grade out in. I do like the idea that it is supposed to be a challenge and you're working your way up which is what I've always wanted out of a mode like this but it feels like it was taken somewhat too far.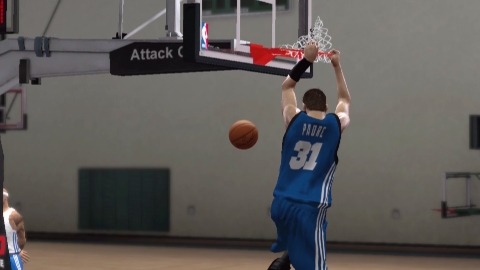 Gameplay wise it feels pretty similar to 2K9 with some nice new animations outside of the quickly draining turbo. In one respect I like the change but at the same time it doesn't always make sense. On fast breaks, whether it be on offense or trying to track someone down, I now question whether I should use turbo or not. No matter how tired an NBA player is in those situations they still go all out.
The lack of atmosphere really hurts the overall experience. There is no excitement and that will probably be a crucial aspect to playing the mode in NBA games. It feels slow and uninvolved and there are even annoyances like the refs not getting action started for 10 seconds or so. Like I've stated I don't expect that feeling to necessarily carry over to NBA 2K10, but I can't say that playing Draft Combine provided much fun at all.