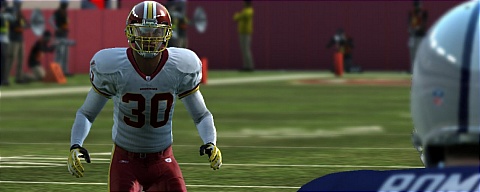 Early this year I did an article relating to the huge leaps in online participation being seen recently in series such as NBA Live, FIFA, and NHL. New modes like Online Team Play along with much improved online stability have paid off and resulted in unprecedented usage. That in turn has led to a much bigger focus towards online play now seen with other titles receiving their own expanded and unique online modes.
Peter Moore has announced that Madden 10 has shattered previous online related records. Madden 10 is the first sports title to have over 100,000 users connected and playing online at the same time. That is a staggering number to consider. In the first week alone over 5.6 million online games were played. Madden has such a strong reputation for being a head-to-head game and as the biggest seller in the US it comes as no surprise that records such as these will be broken every year in the series. In the past excuses were given as to why online was not fully featured or receiving the resources to run well consistently. That was generally attributed to low percentage of gamers playing online. That is certainly no longer the case.
I doubt that Online Franchise played much into these numbers but expanding that is an important part of where Madden is going. The same can be said for Online Co-Op which is not great this year but an Online Team Play type expansion with 3v3 or 4v4 seems likely next year. At the very least what modes like these do is introduce a more inviting environment to new online players than going into Play Now and matching up against someone who very well may ruin their experience. Hopefully they continue to improve on the overall online offerings and performance but it is encouraging to hear statistics such as these as it will motivate them even more to do just that.