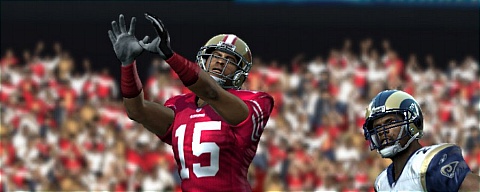 With the deadline today for teams to cut down to their final 53 man rosters there remains only one draft pick left unsigned. The #10 draft pick WR Michael Crabtree has made no progress in his stand of demanding bigger numbers than his draft slot would represent. The 49ers don't appear willing to give in and Crabtree has indicated he will sit out the season and re-enter the draft next year.
That brings up an interesting question regarding Madden 10 and probably the reasoning behind not being able to get a clear answer from anyone on what will happen with him. Crabtree is in the game but has not actually signed a contract. His rights are held by the 49ers but does that make it permissible to use his likeness in the game as he would not be a member of the NFL Players Association? Considering how rare something like this is maybe it has just never been a concern for EA or the NFL. The league continues to sell his jerseys so maybe his likeness is included regardless. Rookies are put into the game no matter their contract status so it may be that a players likeness is held by the NFL as soon as they are drafted. Whether they be included on the roster though is a decision that EA makes.
As to ratings if Crabtree does finally sign at some point expect him to drop from the 84 he entered the game with. Missing training camp and the preseason would make it very difficult to acclimate him in the offensive system. He would get less opportunity to be on the field and in turn would make much less impact than most people had anticipated. His image has certainly taken a hit over the last few months. This would not be without precedence as JaMarcus Russell dropped in ratings after his extended holdout. I'd look for an adjustment into the mid 70s should he sign.
What is likely to happen will be the removal of Crabtree in the next roster update which is expected to be out this week. Given that the 49ers will have their official 53 man roster and he will not be a part of the team that would be the only thing to make sense. EA may avoid any comment on it however so as not to draw any unnecessary attention to the situation.
Update: Crabtree may be staying on the roster for the time being but dropped to the bottom of the depth chart. Apparently his rights are officially held regardless of contract status. Personally given the game's roster limitations I don't feel he should be taking the spot of someone who is actually on the team. Of course anyone who has a current franchise in progress would not lose him from that, but if he remains on the depth chart people would just move him right back up.