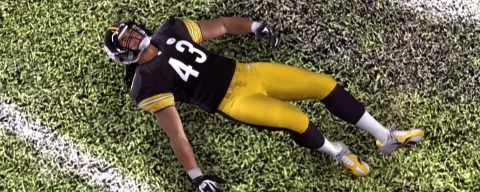 In the NFL season opener, co-cover athlete for Madden 10 Troy Polamalu suffered what is currently being called an MCL sprain that will keep him out at least 3-6 weeks. This lead to the inevitable rush of Madden curse articles which has been the case for years now. Understandably when he was injured the initial reaction of many was to note that the cover curse had struck yet again. Many would argue that it just can't be written off as a coincidence any longer with its consistency and in this case having happened so early in the season.
The other cover athlete Larry Fitzgerald did have six receptions for 71 yards and a TD on Sunday. However the Cardinals dropped the home opener to the 49ers and still have not won a game after going 0-4 in the preseason. That would certainly be more indicative of the difficulties teams have bouncing back after Super Bowl losses than anything to do with Madden.
Players on the cover are coming off exceptional seasons which are difficult to duplicate. They are coming off years that were largely injury free and that inevitably all players will face injuries in their career.  In reality it should be little surprise that cover athletes have a track record of struggling the years they are in the spotlight.
Do I feel that there is a curse on players who appear on the cover of Madden? No of course not. But what I do see now, thanks to avenues such as Twitter but also just regular media coverage, is that these players face questions about it and get the idea of it planted in their heads. After Polamalu went down it was Fitzgerald responding the tweets about the Madden curse. It is inescapable. Does that end up getting in their heads resulting in a higher likelihood of the instances we've seen throughout the history of the series? That would seem be the most legit aspect of what the supposed curse could mean.
Tom Brady wasn't on the cover of Madden 09 yet he was lost last year for the whole season. A large percentage of players miss games or see their play level drop-off and don't have a game cover to attribute that too. Brian Urlacher, Donovan McNabb and other players injured early this season were not on the cover…yet if they had been that is what people would be pointing towards. So while there is no actual curse the thought of it carries on and Fitzgerald will continue to deal with the weight of it throughout the year.