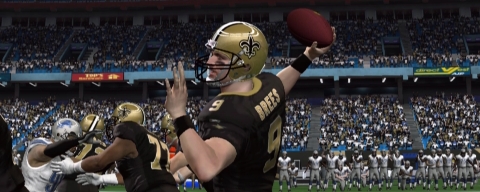 There will be no Madden 10 roster update this week according to Donny Moore. The message left in the rosters and ratings forum below announced this earlier today.
We don't like to react prematurely to performance issues so we don't plan to update the rosters this week. We will be back next week with a comprehensive update that includes key performance changes as well as any major depth chart adjustments. Looking ahead, we plan to update the rosters as needed throughout NFL season. Expect several updates per month as we evaluate player and team performance each week. Feel free to give me feedback via the forums or through Twitter to help shape the final roster.
The idea that ratings changes shouldn't be made because of the opening week really doesn't fly though. I don't think many people would be asking for or expecting changes based solely on one game. However there are players who went into the season over or under rated or with big question marks surrounding them and solidified those opinions with their performances in week one. Jake Delhomme is a great example of that. Should he have been an 80 going into the season which puts him as better than 13 other team's starting QBs? After week one the answer there is clear as he is only starting out of necessity. Then you have significant injuries such as the loss of Brian Urlacher for the season that will not be represented in the game until the next update comes.
The consistency of weekly roster updates is important and "as needed" has such vague meaning that there could be several different opinions on when an update would be "needed" vs when it wouldn't be deemed the changes weren't important enough. The message from Donny Moore is contradicting in that is mentions several updates per month and evaluations on a weekly basis but also states they will be "as needed". Producing the updates weekly not only makes it easier to keep up with the changes but also provides more accurate rosters throughout the season.