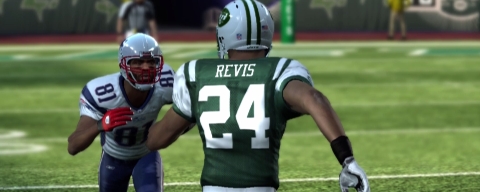 The roster update for Madden 10 may have been skipped last week but assurances have been made that there will be one out this week. Along with the first patch which is expected within the next few days and the AFL downloadable content coming on Thursday it will be an eventful week for Madden.
After the first few games one standout has been Jets CB Darrelle Revis who has shut down two of the best receivers in the league, Andre Johnson and Randy Moss, in consecutive weeks. His 91 overall should see an increase of at least five points. Drew Brees still seems destined for a 99 rating after now having tied the record for most TD passes after two games. Bengals DE Antwan Odom leads the league with seven sacks after racking up five in Sunday's game against the Packers. Along with having given up four sacks to the Bears, the Packers have now allowed 10 sacks so a drop to their offensive line would be warranted. Mario Manningham appears to have stepped up to become the Giants #1 receiver and deserves a ratings increase to match.
Other transactions that will be made include Brian Urlacher, Jamal Williams, and Randy Thomas to the IR. The signings of free agents such as Jeff Garcia to the Eagles will also be reflected.
As with the ratings suggestions posting last week, leave your thoughts in the comments on what players are deserving of a boost or drop in their ratings based on early season performance.