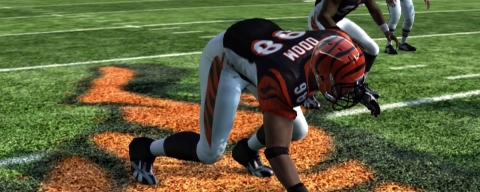 After taking a week off the Madden 10 roster updates have returned with the fourth of the year which came out this morning. This update includes a slight upgrade for Darrelle Revis to 93, a 10 point upgrade to 85 for Antwan Odom, a five point decrease for Jake Delhomme, an11 point increase for Mario Manningham while Drew Brees has become a 99. Those were all players that I thought would see adjustments based on their performance early this season so it is encouraging to see that the ratings are being actively adjusted for the players that need it.
The update also includes several transactions and depth chart changes. Chief among them are Brian Urlacher, Jamal Williams, Randy Thomas, and Jermaine Phillips to the IR and the complete removal of Michael Crabtree from the 49ers as he has yet to sign.
Continue on for the full list of changes and leave your thoughts in the comments!
• Bo Scaife – upgrade SPD, Stiff Arm
• Santonio Holmes – upgrade routes/catch…85OVR….NOW 87 OVR.
• Willie Parker – downgrade….86OVR…NOW 83 OVR.
• Steelers OL – bump up PBK, downgrade RBK (with exception of Willie Colon, he made major holes open up against Chicago).
• Troy Polamalu – spec catch…was 45!…now 87
• John Abraham – Power Move….95 OVR…NOW 96.
• Jake Long – PBK Strength downgrade….91OVR…NOW 90.
• Derek Cox – CTH, AWR…68OVR…NOW 72.
• Sheldon Brown – CTH….was 64…NOW 69.
• Mike Goodson – SPD/ACC…was 89spd/93acc…now 91spd/94acc
• Caddy Williams – was 75OVR…now 78.
• Derrick Ward downgrade – was 83 OVR, now 80 OVR.
• DeSean Jackson – Return, SPD, ELUS…98 SPD now…Was 82 OVR, now 84OVR.
• Jake Delhomme – Downgrade…was 80OVR, now 75OVR.
• Mike Bell – running hard. Was 70OVR, now 76OVR.
• Jeremy Shockey – bump…was 85OVR, now 87OVR.
• Ronde Barber – Tak, all coverage down Was 84OVR, now 83.
• Aqib Talib – TAK down. Was 50, now 45.
• Ted Ginn – ACC down, CIT down, Route up.
• Jon Beason – juke, catch, elusiveness
• Anthony Fasano – CAR down (2 fumbles). Was 70, now 60.
• Tony Gonzalez – juke, spec catch, catch. Was 98OVR, now 99OVR.
• Michael Clayton – Catch in traffic
• Ovie Mughelli – Trucking, speed, catch…Was 86OVR, now 88.
• Dan Carpenter – big boost, 85% career, big boot on kickoffs…was 63OVR, now 72OVR.
• Aaron Brown – Return, BCV
• Detroit secondary downgrade
• Adrian Peterson Stiff arm, 99 OVR
• Kellen Winslow – drops, CTH low
• Patrick Crayton – upgrade…was 75OVR, now 77 OVR.
• Sabby Pascatelli – Zone coverage, man cov way down
• OJ Atogwe – CTH up, zone. Was 90OVR, now 92OVR.
• Hakeem Nicks – CTH drop
• London Fletcher – pursuit, tackle…was 89OVR, now 90.
• Mario Manningham – quick, ACC, elusiveness…was 64 OVR, now 75.
• Kurt Warner – Accuracy down, AWR, THP down….from 93OVR, to 91OVR.
• Calais Campbell JMP boost
• Darnell Dockett upgrade – was 93OVR, now 96OVR.
• Nate Clement man cov bump – was 84OVR, now 85.
• Shawntae spencer up man cov…was 68OVR, now 71.
• Tim Hightower catch, routes up – was 76 OVR, now 78OVR.
• John Carlson upgrade – was 87OVR, now 89.
• Allen Barbre downgrade PBK FWK/STR – was 70OVR, now 62OVR.
• Jordy Nelson Return up
• Tully Banta Cain upgrade – was 65OVR, now 72OVR.
• Fred Jackson looked very good, runs hard, speed, great CTH/Routes – was 77OVR, now 80.
• Leodis McKelvin RET down, AWR, CAR down
• LaDainian Tomlinson – CAR, INJ, TGH down (facemask change)…was 94 OVR, now 92 OVR.
• Sproles – upgrade, routes…was 83OVR, now 85.
• Darrius Heyward-Bey – CTH down…was 74CTH, now 72 CTH.
• Louis Murphy bump – was 68OVR, now 72.
• Darren McFadden – power, strong, trucking up, CAR down, ELUS down…was 79OVR, now 81.
• Justin Fargas downgrade – was 77 OVR, now 75.
• JaMarcus Russell – throw on run down, short accuracy down, deep accuracy up…currently 19/54 for 317 yds and 1TD…was 74OVR, now 72.
• Michael Bush – CTH, SPD up, truck down – was 76 OVR, now 77.
• Tyvon Branch – TAK up…was 68OVR, now 70.
• Chris Johnson – man coverage up, hit power. Speed to 97, OVR was 81, now 83.
• L. Nananu upgrade, spec catch, overall…was 64OVR, now 68.
• Aaron Scobel – CTH up, zone coverage
• Kevin Ellison – man/zone cov down…was 70OVR, now 68.
• Ben Watson – spec catch up…was 79OVR, now 80.
• Brian Urlacher IR. Added Tim Shaw to Bears.
• Shawn Andrews IR. Winston Justice moved to RT1.
• Bobby Wade released
• Chris Draft released
• Jerome Felton added to Lions
• Greg Lewis signed to Vikings
• Paul Poluszny broken arm – removed off of depth chart
• Brandon Rodd removed from Bills
• Brad Butler placed on IR (Buf)
• Chris Carr return down
• DD Lewis – signed by Seattle, LeRoy Hill moved to ROLB3
• Robert Gallery boost, INJ down. Was 82OVR, now 85.
• Kenny Britt STR, boost
• Kroy Biermann – ATL 2 sacks, boost, was 60OVR, now 68.
• Josh McCown on IR (foot)
• AJ Feeley signed by Carolina
• Tim Shaw signed by Chicago
• Matt Stafford downgrade was 79OVR, now 78.
• Adewale Ogunuleye boost – was 81OVR, now 83.
• Chase Blackburn boost – was 59OVR, now 65.
• Jeff Faine strained biceps – removed from depth
• Added Sean Mahan to Bucs
• Hank Baskett released from Eagles (signed to Colts)
• Roy Hall removed from Colts
• Anthony Gonzalez removed from Colts depth chart (Collie WR2 now)
• Pierre Garcon bump – was 62OVR, now 68.
• Earl Bennett routes up – was 82RTE, now 84 RTE.
• Johnny Knox upgrade with CTH, RTE…was 62OVR, now 68OVR.
• Cedric Benson – runs hard, quicker and elusive, was 76OVR, now 80.
• DeDe Dorsey removed from Bengals
• Gibril Wilson (MIA) tackle downgrade – from 85TAK, to 81TAK.
• Ronnie Brown upgrade from 90OVR, to 91.
• Jay Ratliff showing unbelievable quickness and athleticism for big DT…upgrade from 89OVR to 91.
• Ken Hamlin lack of plays. Downgrade from 84OVR, to 82.
• Dominique Rodgers Cromartie SPD increase to 97, ACC to 98, OVR downgrade from 87 to 85 (man and zone hit).
• Eric Wright TAK downgrade from 56TAK to 52TAK….ADP ran over this poor guy.
• Drew Brees increase to 99 OVR from 97OVR.
• Tom Brady downgrade from 97OVR to 96.
• Tank Johnson moved to DT2, Pat Sims to DT3 (CIN)
• Jonathan Fanene moved to DT from LE
• Chris Johnson upgrade from 88OVR to 90OVR.
• William Hayes added to Titans
• Kevin Vickerson added to Titans
• Sen'Derrick Marks jersey number change to 94 (was 72)
• Titans DT Depth – Jason Jones made DT1, Tony Brown DT2, Jovan Haye DT3
• Edwin Williams added to Redskins
• Malcolm Kelly moved to WR2, rating increase from 68OVR to 71.
• Tanard Jackson removed from depth chart (TB)
• EJ Biggers moved to IR (TB)
• Maurice Evans removed from TB
• Tim Crowder added to TB
• Ruvell Martin added to Rams
• Laurent Robinson upgrade – was 68OVR, now 73OVR.
• Leon Hall bump, shut down B. Marshall and Greg Jennings…was 79OVR, now 83OVR.
• Alex Mack made C1 in Cleveland (Fraley C2)
• Brandon Marshall downgrade from 92OVR, to 90OVR.
• Steve Slaton CAR from 87 to 81 (after 3 fumbles in 2 games), downgrade 87OVR to 85OVR.
• Dallas Clark upgraded from 91OVR to 92OVR.
• Jacob Lacey added to Colts
• Troy Williamson added to IR (JAX). Mike Sims-Walker now WR2.
• Nate Hughes removed from Jaguars (to Free Agency)
• Mike Sims-Walker increase from 68OVR to 69.
• Tank Tyler boost from 67OVR to 75OVR.
• Glenn Dorsey best game as a pro, increase from 75OVR to 77OVR.
• Chansi Stuckey increase in routes, CTH – was 67OVR, now 71OVR.
• Mark Sanchez bump from 76OVR to 78OVR.
• Robert Gallery moved to LG2 (injured). Paul McQuistan moved to LG1 in Oakland.
• Samson Satele downgrade from 81OVR to79OVR.
• Chris Morris upgrade from 61OVR to 71OVR. Morris moved to C1, Satele C2.
• Added Dantrell Savage to Chiefs
• Removed Kolby Smith from Chiefs depth chart (inujred)
• Added Jackie Battle to Chiefs
• Larry Johnson downgrade, not explosive, was 88OVR, now 85.
• Alfonso Boone added to Chargers
• Jamal Williams placed on IR (SD).
• Andre Coleman added to Chargers
• Added Corey Clark to Chargers
• Removed LJ Shelton from Chargers
• Removed Gartrell Johnson from Chargers
• Added Brandyn Dombrowski to Chargers
• Victor Hobson removed from Arizona
• Bertrand Berry increase (2 sacks thru 2 gms), was 69OVR, now 72
• Peria Jerry placed on IR (ATL)
• Added Vance Walker to Atlanta
• Darryn Colledge PBK downgrade (was 75OVR, now 73)
• Steve Smith (NYG) increase from 77OVR to 78.
• Frank Gore upgrade from 91OVR to 93OVR.
• Walter Jones slight downgrade to 93OVR from 94OVR.
• Maurice Stovall upgrade (was 61OVR, now 63.
• Randy Thomas placed on IR (WASH)
• Will Montgomery moved to RG1 (WASH)
• Kevin Kolb upgrade to mid and deep acc, was 68 OVR, now 70.
• Laurence Maroney CTH downgrade, was 58CTH, now 53.
• Adrian Peterson – removed gloves/elbow pads
• Darrelle Revis shutting down everyone. Upgrade, was 91OVR, now 93.
• Matt Ryan upgrade, was 85OVR, now 87OVR.
• Devery Henderson upgrade, was 67OVR, now 69.
• Lance Moore downgrade, was 81OVR, now 79.
• Marques Colston upgrade, was 87OVR, now 91.
• Charles Woodson upgrade, was 93OVR, now 94.
• Julian Edelman upgrade, was 58OVR, now 63.
• Andre Caldwell upgrade, was 62OVR, now 66
• Trent Cole clight upgrade, was 91OVR, now 93.
• Steven Jackson slight upgrade, was 92OVR, now 93.
• Antwan Odom huge upgrade after 5 sack game (7 total sacks in 2 gms), was 75OVR, now 85OVR.
• Jonathan Goodwin upgrade from 67 OVR, to 70.
• Akeem Jordan upgrade, was 72OVR, now 73. Play rec, CTH, AWR boosts.
• Matt Schaub upgrade, was 78OVR, now 81OVR.
• Elvis Dumervil upgrade, was 70OVR, now 74.
• Greg Estandia removed from Jags
• Ernest Wilford added to Jags
• Jeff Garcia added to Eagles
• Geno Hayes rating increase (TB) – was 65, now 69.
• Michael Huff upgrade (3 INTs so far thru 2 gms), was 70OVR, now 74.
• Hiram Eugene bumped up TAK
• Michael Gaines (CHI) jersey number now 86
• Macho Harris now FS1 for Eagles
• Michael Spurlock added to 49ers
• Add Dirk Johnson to Bucs
• Removed Josh Bidwell from Bucs (IR)
• Martin Rucker removed from Browns
• Greg Estandia added to Browns
• Robert Royal moved to TE1 for Browns
• Stephon Heyer (WASH) rating decrease was 70OVR, now 68.
• Prescott Burgess traded to Patriots from Ravens
• Jamon Meredith added to Bills
• Jonathan Stupar added to Bills
• Derek Shouman added to IR
• Derek Fine moved to TE1 in Buffalo
• Will Allen moved to FS1 for Bucs
• Jermaine Phillips added to IR (Bucs)
• Louis Leonard added to IR (Panthers)
• Joe Staley increase – was 86, now 87.
• Eric Heitman increase – was 81, now 84.
• Tony Pashos decrease in PBK
• Adam Snyder decrease in PBK
• Danny Amendola added to Rams
• Derek Stanley removed from Rams (to FA)
• Zachary Bowman moved to CB2 in Chicago
• Trumaine McBride removed from Bears (to FA)
• DeAngelo Smith added to Bears
• Ben Utecht added to IR (CIN)
• Added JP Foschi to Bengals
• Added Geoffrey Pope to Bengals
• Added Drayton Florence to Bills
• Added Gibran Hamdan to Bills
• Added Jeff Charleston to Saints
• Moved Tony Hargrove to DT4 (was LE for Saints)
• Added Tony Curtis to Ravens
• Added Tiquan Underwood to Jaguars
• Terrence McGee new contract with Bills (5yrs/30MIL/no Bonus info at press time)
• Turk McBride removed from Chiefs, added to Lions
• Pierre Walters added to Chiefs
• Jovan Belcher added to Chiefs
• Bruce Johnson added to Giants
• Terrell Thomas moved to CB2 for Giants
• Michael Boley moved to LOLB1 for Giants
• Courtney Roby added to Saints
• Russ Hochstein added to Broncos
• Chad Jackson removed from Broncos
• Blake Costanzo added to Browns
• Anthony Madison added to Browns
• Ray Ventrone added to Browns
• Billy Yates added to Browns
• Leon Williams removed from Browns
• Marc Dile added to Bucs
• Arron Sears removed from Bucs (Did Not Report List)
• Michael Crabtree removed from 49ers (Not UnderContract)
• Added Kelin Dykes to Cardinals
• Added Gartrell Johnson to Giants
• Added Ricardo Colclough to Chiefs
• Removed Travis Daniels from Chiefs
• Herb Taylor removed from Chiefs
• Bobby Wade added to Chiefs
• Added Ropati Pitoitua to Jets
• Jordan Senn removed from Colts
• Ramon Humber added to Colts
• Duke Preston added to Cowboys
• Nate Garner added to Dolphins
• Erik Walden added to Dolphins
• Tracy White added to Eagles
• Dimitri Patterson added to Eagles
• Removed Diyral Briggs from 49ers
• Added Darcy Johnson to Giants
• Removed Tutan Reyes from Giants
• Added Kennard Cox to Jaguars
• Added Courtney Greene to Jaguars
• Removed James Wyche from Jaguars
• Placed Reggie Hayward on the IR (Jaguars)
• Added Julius Williams to Jaguars
• Added Steve Weatherford to Jets
• Removed AJ Trapasso from Jets (to FA)
• Orien Harris removed from Lions
• Added Copeland Bryan to Lions
• Added Kevin Hobbs to Lions
• Added Brad Jones to Packers
• Added Spencer Havner to Packers
• Added Rich Ohrnberger to Patriots
• Removed Ryan Wendell from Patriots
• Added Rob Ninkovich to Patriots
• Removed William Joseph from Raiders
• Moved Richard Seymour to LE1 for Raiders
• Removed Ricky Manning from Raiders
• Jeff Dugan added to Vikings
• Removed Quinton Culberson from Rams
• Added Paris Lenon to Rams
• David Roach added to Rams
• Patrick Bailey added to Steelers
• Bruce Davis removed from Steelers
• David Johnson added to Steelers
• Jeremy Parquet removed from Steelers
• Scott Paxson removed from Steelers
• Keiwan Ratliff added to Steelers
• Stefan Logan made KR1 and PR1
• Added John Busing to Texans
• Added Glenn Martinez to Texans
• Tim Bulman added to Texans
• Removed Stanley McClover from Texans (injured)
• Added Jeff Zgonina to Texans
• Chester Pitts placed on IR (Kasey Studdard now LG1)
• Michael Oher increase – was 77OVR, now 79.
• Nick Hardwick moved to C2 (injured). Scott Mruczkowski now C1.
• Cary Williams removed from Titans
• Reggie Hodges added to Titans, now P1
• Craig Hentrich removed from depth chart
• Thomas DeCoud increase – was 68OVR, now 73.
• Roy Williams (DAL) RBK increase
• Aaron Rouse removed from Packers
• Derrick Martin moved to FS1
• Matt Giordano added to Packers