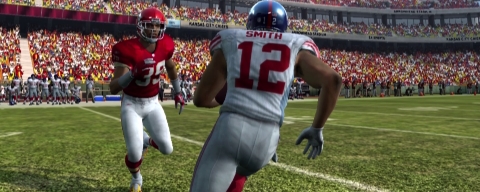 The sixth roster update for Madden 10 was released earlier this morning. It includes the trade of Braylon Edwards to the Jets and the re-introduction of Michael Crabtree to the 49ers after his signing earlier this week. Edwards lost a point and is now an 84 and Crabtree has shifted downwards but not nearly as much as I would've expected. He is now an 82 overall.
Other changes of note include a significant boost to Giants WR Steve Smith as he goes from an 81 to an 87. Darrelle Revis has moved up even more as he is now a 96. Brett Favre has jumped to an 85, Elvis Dumervil gains two points to an 83, and Terrell Owens loses two and is now an 88.
Continue on to view the full list of changes and leave your thoughts in the comments!
Chansi Stuckey WR CLE Traded to CLE from NYJ
Jason Trusnik LB CLE Traded to CLE from NYJ
Braylon Edwards WR NYJ Traded to NYJ from CLE
Tyler Thigpen QB MIA Traded to MIA from KC
Steve Breaston WR ARZ Decrease, from 79 to 78OVR
Ben Graham P ARZ Increase, from 69 to 76OVR
Michael Oher OL BAL Increase, from 79 to 81OVR
Jared Gaither OL BAL Increase, from 81 to 83OVR
Ray Rice HB BAL Increase, from 82 to 85OVR
Trevor Pryce DE BAL Increase, from 83 to 85OVR
Willis McGahee HB BAL Increase, from 85 to 86OVR
Joe Flacco QB BAL Increase, from 85 to 86OVR
Matt Birk OL BAL Increase, from 88 to 89OVR
Trent Edwards QB BUF Decrease, from 76 to 75OVR
Terrell Owens WR BUF Decrease, from 90 to 88OVR
Marcus Buggs LB BUF Increase, from 59 to 62OVR
Keith Ellison LB BUF TAK Increase, from 68 to 69OVR
Nathan Vasher CB CHI Decrease, from 72 to 69OVR
Zachary Bowman CB CHI Increase, from 69 to 72OVR
Johnny Knox WR CHI Increase, from 70 to 71OVR
Chris Williams OL CHI Increase, from 75 to 79OVR
Adewale Ogunuleye DE CHI Increase, from 83 to 84OVR
Matt Forte HB CHI Increase, from 89 to 90OVR
Lav Coles WR CIN Decrease, from 86 to 85OVR
JP Foschi TE CIN Increase, from 61 to 68OVR
Tank Johnson DT CIN Increase, from 74 to 76OVR
Domata Peko DT CIN Increase, from 80 to 83OVR
Keith Rivers LB CIN Increase, from 81 to 82OVR
Carson Palmer QB CIN Increase, from 88 to 90OVR
Chad Ochocinco WR CIN Increase, from 89 to 91OVR
Braylon Edwards WR CLE Decrease, from 85 to 84OVR
Jerome Harrison HB CLE Increase, from 70 to 73OVR
Mohamed Massaquoi WR CLE Increase, from 70 to 73OVR
Tony Romo QB DAL Decrease, from 87 to 86OVR
Terence Newman CB DAL Decrease, from 89 to 88OVR
DeMarcus Ware LB DAL Decrease, from 98 to 97OVR
Ryan McBean DE DEN Increase, from 67 to 69OVR
Kenny Peterson DE DEN Increase, from 72 to 74OVR
Mario Haggan LB DEN Increase, from 72 to 75OVR
Kyle Orton QB DEN Increase, from 75 to 76OVR
Elvis Dumervil LB DEN Increase, from 81 to 83OVR
DJ Williams LB DEN Increase, from 85 to 88OVR; HITPOWER from 90 to 95
Brandon Marshall WR DEN Increase, from 90 to 91OVR
Ryan Clady OL DEN Increase, from 94 to 95OVR
Champ Bailey CB DEN Increase, from 96 to 98OVR
Louis Delmas S DET Increase, from 77 to 79OVR
Allen Barbre OL GB Decrease, from 62 to 60OVR
Breno Giacomini OL GB Decrease, from 63 to 60OVR
Darryn Colledge OL GB Decrease, from 73 to 70OVR
Josh Sitton OL GB Decrease, from 76 to 74OVR
Scott Wells OL GB Decrease, from 78 to 76OVR
Jason Spitz OL GB Decrease, from 82 to 80OVR
Chad Clifton OL GB Decrease, from 87 to 83OVR
Aaron Kampman LB GB Decrease, from 93 to 91OVR
Nick Collins S GB Decrease, from 93 to 92OVR
Brandon Chillar LB GB Increase, from 67 to 69OVR
Jordy Nelson WR GB Increase, from 69 to 70OVR
Jermichael Finley TE GB Increase, from 74 to 77OVR
Cullen Jenkins DE GB Increase, from 82 to 85OVR
Charles Woodson CB GB Increase, from 94 to 95OVR
Al Harris CB GB TAK Increase, from 44 to 54TAK
Zac Diles LB HOU Increase, from 62 to 66OVR
Jacoby Jones WR HOU Increase, from 63 to 67OVR
Brian Cushing LB HOU Increase, from 77 to 79OVR
Robert Mathis DE IND Increase, from 92 to 94OVR
Dallas Clark TE IND Increase, from 92 to 94OVR
Adam Vinitieri K IND KPW increase, KAC decrease
Dwight Freeney DE IND STR Increase
Torry Holt WR JAX Decrease, from 85 to 84OVR
Derek Cox CB JAX Increase, from 72 to 74OVR
Mike Sims-Walker WR JAX Increase, from 73 to 80OVR
Jamaal Charles HB KC CAR Decrease, from 72 to 62CAR
Larry Johnson HB KC Decrease, from 85 to 83OVR
Brian Waters OL KC Decrease, from 94 to 92OVR
Tamba Hali LB KC Increase, from 65 to 68OVR
Sean Ryan TE KC Increase, from 72 to 76OVR
Brandon Flowers CB KC Increase, from 77 to 81OVR
Gibril Wilson S MIA Decrease, from 83 to 81OVR
Cameron Wake LB MIA Increase, from 66 to 71OVR
Vontae Davis CB MIA Increase, from 76 to 77OVR
Ricky Williams HB MIA Increase, from 78 to 81OVR
Sean Smith CB MIA Increase, from 79 to 80OVR
Jason Taylor LB MIA Increase, from 79 to 82OVR
Jake Grove OL MIA Increase, from 81 to 87OVR
Justin Smiley OL MIA Increase, from 84 to 86OVR
Ronnie Brown HB MIA Increase, from 91 to 92OVR
Ben Leber LB MIN Increase, from 73 to 76OVR
Sidney Rice WR MIN Increase, from 73 to 77OVR
Brett Favre QB MIN Increase, from 82 to 85OVR
Antoine Winfield CB MIN Increase, from 89 to 92OVR
Jared Allen DE MIN Increase, from 98 to 99OVR
Joey Galloway WR NE Decrease, from 79 to 76OVR
Gary Guyton LB NE Increase, from 70 to 73OVR
Mike Wright DL NE Increase, from 73 to 76OVR
Leigh Bodden CB NE Increase, from 78 to 79OVR
Brandon Meriweather S NE Increase, from 79 to 82OVR
Reggie Bush HB NO Decrease, from 77 to 76OVR
Lance Moore WR NO Decrease, from 79 to 78OVR
Marques Colston WR NO Decrease, from 91 to 90OVR
Thomas Morsted P NO Increase, from 59 to 66OVR
Scott Shanle LB NO Increase, from 68 to 72OVR
Devery Henderson WR NO Increase, from 69 to 71OVR
Roman Harper S NO Increase, from 75 to 78OVR
Jon Stinchcomb OL NO Increase, from 75 to 82OVR
Jabari Greer CB NO Increase, from 77 to 80OVR
Tracy Porter CB NO Increase, from 78 to 80OVR
Carl Nicks OL NO Increase, from 78 to 84OVR
Charles Grant DE NO Increase, from 80 to 84OVR
Pierre Thomas HB NO Increase, from 81 to 83OVR
Will Smith DE NO Increase, from 86 to 87OVR
Darren Sharper S NO Increase, from 88 to 90OVR
Jahri Evans OL NO Increase, from 90 to 92OVR
Domenik Hixon WR NYG Decrease, from 73 to 72OVR
Kevin Boss TE NYG Decrease, from 83 to 81OVR
Chris Canty DT NYG Decrease, from 84 to 82OVR
Steve Smith WR NYG Increase from 81 to 87OVR
Bruce Johnson CB NYG Increase, from 61 to 63OVR
Chase Blackburn LB NYG Increase, from 63 to 66OVR
Fred Robbins DT NYG Increase, from 83 to 86OVR
Corey Webster CB NYG Increase, from 90 to 92OVR
Dustin Keller TE NYJ Increase, from 77 to 78OVR
Darrelle Revis CB NYJ Increase, from 93 to 96OVR
JaMarcus Russell QB OAK Decrease, from 72 to 69OVR
Khalif Barnes OL OAK Decrease, from 80 to 76OVR
Darren McFadden HB OAK Decrease, from 80 to 79OVR
Zach Miller TE OAK Decrease, from 87 to 86OVR
Ricky Brown LB OAK Increase, from 67 to 70OVR
Tyvon Branch S OAK Increase, from 70 to 72OVR
Sebastian Janikowski K OAK Increase, from 74 to 78OVR
Mario Henderson OL OAK Increase, from 81 to 84OVR
Quentin Demps S PHI Decrease, from 78 to 76OVR
Stacy Andrews OL PHI Decrease, from 91 to 86OVR (lost starting job)
Brian Westbrook HB PHI Decrease, from 93 to 91OVR
Winston Justice OL PHI Increase, from 66 to 74OVR
Jason Avant WR PHI Increase, from 68 to 71OVR
Macho Harris S PHI Increase, from 73 to 76OVR
Quintin Mickell S PHI Increase, from 83 to 84OVR
Ben Roethlisberger QB PIT Decrease , from 93 to 92OVR
LaMarr Woodley LB PIT Decrease in FINMOVE, increase in POWMOVE
Keyaron Fox LB PIT Increase, from 59 to 66OVR
Mike Wallace WR PIT Increase, from 63 to 68OVR
Reshard Mendenhall HB PIT Increase, from 72 to 76OVR
Chris Kemoteau OL PIT Increase, from 77 to 79OVR
Heath Miller TE PIT Increase, from 88 to 89OVR
LaDainian Tomlinson HB SD Decrease, from 92 to 91OVR
John Carlson TE SEA Decrease, from 89 to 88OVR
Dre Bly CB SF Decrease, from 75 to 72
David Baas OL SF Decrease, from 79 to 78OVR
Ray McDonald DT SF Increase, from 67 to 70OVR
Dashon Goldson S SF Increase, from 68 t0 71OVR
Aubrayo Franklin DT SF Increase, from 68 to 79OVR
Isaac Sopoaga DE SF Increase, from 70 to 72OVR
Shawntae Spencer CB SF Increase, from 71 to 74OVR
Manny Lawson LB SF Increase, from 72 to 75OVR
Parys Haralson LB SF Increase, from 76 to 78OVR
Nate Clements CB SF Increase, from 85 to 88OVR
Justin Smith DE SF Increase, from 88 to 89OVR
Patrick Willis LB SF Increase, from 98 to 99OVR
Marc Bulger QB STL Decrease, from 78 to 77OVR
James Laurinaitis LB STL Increase, from 77 to 78OVR
Donnie Jones P STL Increase, from 87 to 90OVR
Michael Clayton WR TB Decrease, from 70 to 69OVR
Byron Leftwich QB TB Decrease, from 71 to 69OVR
Josh Johnson QB TB Increase, from 59 to 64OVR
Geno Hayes LB TB Increase, from 69 to 72OVR
Aqib Talib CB TB Increase, from 77 to 82OVR
Cadillac Williams HB TB Increase, from 78 to 82OVR
Gaines Adams DE TB Increase, from 79 to 81OVR
Donald Penn OL TB Increase, from 82 to 83OVR
Barrett Ruud LB TB TAK Increase, from 94 to 96TAK
Kerry Collins QB TEN Decrease, from 77 to 74OVR
Nick Harper CB TEN Decrease, from 77 to 75OVR
Chris Hope S TEN Decrease, from 91 to 89OVR
Cortland Finnegan CB TEN Decrease, from 91 to 90OVR
Michael Griffin S TEN Decrease, from 94 to 91OVR
Nate Washington WR TEN Increase, from 75 to 77OVR
Kenny Britt WR TEN Increase, from 76 to 77OVR
Casey Rabach OL WAS Decrease, from 77 to 75OVR
Justin Tryon CB WAS Increase, from 54 to 60OVR
Chad Rhinehardt OL WAS Increase, from 67 to 72OVR
Reed Doughty S WAS Increase, from 68 to 72OVR
Jason Campbell QB WAS Increase, from 77 to 79OVR
DeAngelo Hall CB WAS Increase, from 79 to 81OVR
Santana Moss WR WAS Increase, from 86 to 87OVR
Marcus Hamilton CB TB Released to FA
Mike Nugent K TB Released to FA
Chris Henry HB TEN Released to FA
Patrick Ramsey QB TEN Released to FA
Marvin White S DAL Released to FA
Ricardo Colclough CB KC Released to FA
Monty Beisel LB KC Released to FA
Marcus McCauley CB DET Released to FA
Yamon Figurs WR DET Released to FA
Darnell Bing LB DET Released to FA
Jordan Senn LB IND Released to FA
Ra'Shon Harris DT CAR Released to FA
Hollis Thomas DT STL Released to FA
DeAngelo Smith CB CHI Released to FA
Jeff Garcia QB PHI Released to FA
Kory Lichtensteiger C MIN Released to FA
Byron Westbrook CB WAS Added
Mark Jones WR TEN Added
Michael Crabtree WR SF Added
Shane Andrus K TB Added
Matt McCoy LB TB Added
LaJuan Ramsey DT STL Added
Jeremiah Trotter LB PHI Added
Chuck Darby DT DET Added
Mike Hart HB IND Added
Adam Jennings WR DET Added
Marvin White S DET Added
Zach Follett LB DET Added
Leger Douzable DT STL Added
Hollis Thomas DT CAR Added
Garry Williams OL CAR Added
Chris Jennings HB CLE Added
Dominic Douglas LB STL Added
Carey Davis FB PIT Added
Curtis Johnson LB DAL Added
Leonard Pope TE KC Added
David Herron LB KC Added
Cletis Gordon CB DAL Added
Kevin Kaesviharn S TEN Added
Cary Williams CB TEN Added
Jon Cooper OL MIN Added
Kenny Onatolu LB MIN Added
Rhett Bomar QB FA Added
Devard Darling WR FA Added
Greg Peterson DE JAX Added
Marcus Smith WR FA Added
Brandon Rodd OL FA Added
Brandon Hughes CB FA Added
Jay Moore LB FA Added
Roy Hall WR FA Added
Paul Williams WR FA Added
Dan Santucci OL FA Added
Stanley McClover DE FA Added
Rob Jackson DE FA Added
DeMario Pressley DT FA Added
Matthias Askew DT FA Added
Marcus Dixon DE FA Added
Michael Coe CB FA Added
Cody Spencer LB FA Added
Gus Frerotte QB FA Removed from FA
Darrell Jackson WR FA Removed from FA
Ike Hilliard WR FA Removed from FA
Pat Ross OL FA Removed from FA
Stanley Wilson CB FA Removed from FA
Willie Reid WR FA Removed from FA
Jerry Porter WR FA Removed from FA
Adrien Clarke OL FA Removed from FA
Josh Thomas DE FA Removed from FA
Earl Cochran DE FA Removed from FA
Antwan Lake DT FA Removed from FA
Kenderick Allen DT FA Removed from FA
Jeremy Mincey DE FA Removed from FA
David Barrett CB FA Removed from FA
Tim McGarigile LB FA Removed from FA
Derek Anderson QB CLE Moved to QB #1
Reed Doughty S WAS Moved to SS1
Victor Abiamiri DE PHI Moved to LE1
Bryan Smith LB JAX Moved to LOLB from LE
Calvin Pace LB NYJ Made ROLB1
Max Jean-Giles OL PHI Moved to LG1
Barry Cofield DT NYG Moved to DT2
Jordy Nelson WR GB Moved to KR1/PR1
Michael Boley LB NYG Moved to LOLB3 (injured)
Michael Bush HB OAK Made HB1 (McFadden injured)
Pat Watkins S DAL Moved to SS1 (Sensabaugh injured)
David Vobora LB STL Moved to ROLB #2 (suspended)
Turk McBride DE DET Jersey changed to #75
Terdell Sands DT NE Jersey changed to #74
Leodis McKelvin CB BUF (Placed on IR – leg)
Cody Brown LB ARZ Added (Placed on IR – wrist)
Craig Hentrich P TEN (Placed on IR – calf)
Khary Campbell LB HOU Added, (Placed on IR – knee)
Frank Summers FB PIT (Placed on IR – back)
Chaun Thompson LB HOU (Placed on IR – knee)
John Bowie CB OAK (Placed on IR – knee)
Jammal Brown OL NO (Placed on IR – hip)
Brandon Ayanbadejo LB BAL (Placed on IR – quad)
James Davis HB CLE (Placed on IR – shoulder)
Adam Jennings WR DET (Placed on IR – ankle)
Will Blackmon CB GB (Placed on IR – knee)