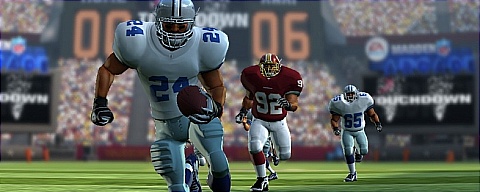 EA Sports has released the first details on the upcoming Madden Arcade. The downloadable only game will be available in December for 1200 MS points on XBL and the equivalent $15 on PSN. It will feature five on five arcade-style gameplay with all 32 teams and stadiums included.
Each team is given four downs to march 60 yards to pay dirt – no penalties or field goals allowed here, pal! Get your Madden NFL fix in a completely new way, with fast-paced games where the first team to 30 wins. Want to mix it up? Madden NFL Arcade can be tailored to fit your liking by changing options, such as skill level, points to win, and more; making each game unlike the one before. Take advantage of 13 unique "Game Changers" to break the game wide open on a single play. Add an entourage of lineman to get the sack, freeze an opposing player, turn off your opponent's passing icons, and much more. No lead is safe in Madden NFL Arcade.
Graphically it looks like they borrowed from the style used in the latest Wii version of Madden though obviously looking much better given the capabilities of the 360 and PS3. You can check out the screenshots in the gallery.
3 on 3 NHL Arcade was a big success though I didn't find it compelling enough to play more than a few times. Hopefully Madden Arcade will provide more longevity. The downloadable only model is attractive to companies as they don't have to worry about the production stage or the used game market cutting into their sales.
For $15 there is a lot of value potential with Madden Arcade. The last arcade style football game that EA released was NFL Tour which I had a lot of fun with and that game sold for $40. Given the complaints about Tour (commentary, thin playbook, lack of defense) it seems like Madden Arcade could provide a similar experience but for the significantly reduced price.