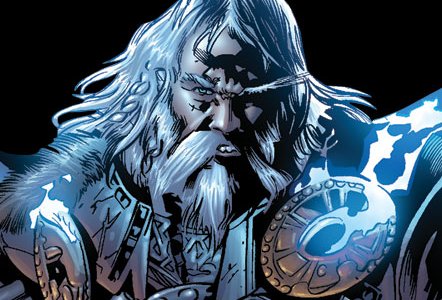 All of the Marvel films that lead up to The Avengers in 2012 are being followed closely while in development. Not only do they have to fit into the same world and mesh for The Avengers to work but every casting decision is crucial as they'll be involved with that picture as well. Up next is Iron Man 2 but others on the way include Thor which is scheduled to release on May 20th, 2011 and Captain America which will arrive on July 22nd, 2011. In their early stages some details are starting to make their way out.
Thor already has been perceived as taking a serious direction based on the choice of Kenneth Branagh as director. Previously confirmed for the movie are Chris Hemsworth as Thor (probably most recognized now as George Kirk from the first few minutes of Star Trek), Natalie Portman as Jane Foster, and Stellan Skarsgård in a role yet to be announced. Now Anthony Hopkins has been revealed to have joined the film as Odin.
As King of the Norse Gods, Odin possesses superhuman strength and a greatly extended lifepsan. Odin is capable of manipulating the Odin Force – a source of magical energy – for a number of purposes including energy projection, creation of ilusions and force fields, levitation, molecular manipulation and teleportation. The character has also used the Odinpower for greater feats such as transporting the entire human race to an alternate dimension, compressing the population of an entire planet into a single being, and taking a soul away from the arch-demon Mephisto. In battle Odin carries the magical spear Gungnir ("The Spear of Heaven"), an artifact made of the metal uru that can be used to channel the Odinforce.
The cast and director are definitely giving Thor some early cred which is not typical for a non-sequel comic book representation. Meanwhile Captain America has yet to announce any of the cast though they have Joe Johnston (The Wolfman, Jurassic Park 3, Jumanji) locked in to direct.