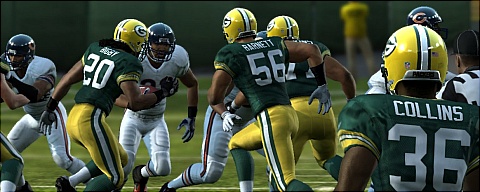 EA Sports has now stated that the next roster update for Madden 10 will not be coming until November 20th. That means there will have been a three week gap between updates and just two updates in a five week span.
This is really disappointing news and any frustration is justified. While there will always be arguments as to players being over or underrated the updates this year have provided the best reflection of real life performance in the history of the franchise. This doesn't just affect quick games and online games as anyone looking to start a franchise or online franchise won't have the most up-to-date rosters available. Consistency is even more important than happening every single week and now we don't even have that.
A partially automated system like NBA Live has with the Synergy daily updates would not make sense for Madden. Games are played only once a week and stats are not the driving force behind many positions in football. But if EA can't do manual roster updates on a consistent basis than maybe some other procedure needs to be considered.
As suggested in the comments a system where roster moves (IR, trades, cuts, signings, depth chart) were done on a weekly basis while the ratings were adjusted bi-weekly or even quarterly would be a reasonable compromise.