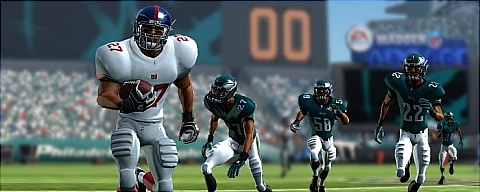 As mentioned a while back when the rosters for Madden Arcade were being put together they are limited and consist of just 10 players. Each team has a QB, HB, WR, TE or 2nd WR, and OL on offense and the defense gets one DL, LB, S, and two CBs.
The rosters released by EA also include lists of "Entourages" which are additional offensive and defensive lineman. It is currently unknown what these represent. It could be they are used in a separate game mode or maybe they are involved as one of the power-ups. We should be finding out what they are for next week.
Unfortunately some of the rosters are already outdated and there will be no rosters updates for the game. Continue on for the full list of players included in Madden Arcade.
Bears Nathan Vasher CB
Bears Charles Tillman CB
Bears Tommie Harris DT
Bears Danieal Manning FS
Bears Matt Forte HB
Bears Orlando Pace LT
Bears Brian Urlacher MLB
Bears Jay Cutler QB
Bears Greg Olsen TE
Bears Devin Hester WR
Bengals Kyle Cook C
Bengals Leon Hall CB
Bengals Johnathan Joseph CB
Bengals Domata Peko DT
Bengals Cedric Benson HB
Bengals Dhani Jones MLB
Bengals Carson Palmer QB
Bengals Roy Williams SS
Bengals Laveranues Coles WR
Bengals Chad Ochocinco WR
Bills Geoff Hangartner C
Bills Terrence McGee CB
Bills Leodis McKelvin CB
Bills Marshawn Lynch HB
Bills Paul Posluszny MLB
Bills Trent Edwards QB
Bills Aaron Schobel RE
Bills Donte Whitner SS
Bills Lee Evans WR
Bills Terrell Owens WR
Broncos Casey Wiegmann C
Broncos Champ Bailey CB
Broncos Andre' Goodman CB
Broncos Knowshon Moreno HB
Broncos Kyle Orton QB
Broncos Kenny Peterson RE
Broncos D.J. Williams ROLB
Broncos Brian Dawkins SS
Broncos Brandon Marshall WR
Broncos Eddie Royal WR
Browns Eric Wright CB
Browns Brandon McDonald CB
Browns Shaun Rogers DT
Browns Jamal Lewis HB
Browns Eric Steinbach LG
Browns D'Qwell Jackson MLB
Browns Brady Quinn QB
Browns Brodney Pool SS
Browns Mohamed Massaquoi WR
Browns Josh Cribbs WR
Buccaneers Aqib Talib CB
Buccaneers Ronde Barber CB
Buccaneers Chris Hovan DT
Buccaneers Carnell Williams HB
Buccaneers Barrett Ruud MLB
Buccaneers Josh Johnson QB
Buccaneers Davin Joseph RG
Buccaneers Sabby Piscitelli SS
Buccaneers Kellen Winslow TE
Buccaneers Antonio Bryant WR
Cardinals Bryant McFadden CB
Cardinals Dominique Rodgers-Cromartie CB
Cardinals Darnell Dockett DT
Cardinals Tim Hightower HB
Cardinals Karlos Dansby LOLB
Cardinals Mike Gandy LT
Cardinals Kurt Warner QB
Cardinals Adrian Wilson SS
Cardinals Larry Fitzgerald WR
Cardinals Anquan Boldin WR
Chargers Quentin Jammer CB
Chargers Antonio Cromartie CB
Chargers Eric Weddle FS
Chargers LaDainian Tomlinson HB
Chargers Kris Dielman LG
Chargers Philip Rivers QB
Chargers Luis Castillo RE
Chargers Shawne Merriman ROLB
Chargers Antonio Gates TE
Chargers Vincent Jackson WR
Chiefs Brandon Carr CB
Chiefs Brandon Flowers CB
Chiefs Jarrad Page FS
Chiefs Larry Johnson HB
Chiefs Brian Waters LG
Chiefs Matt Cassel QB
Chiefs Glenn Dorsey RE
Chiefs Mike Vrabel ROLB
Chiefs Bobby Wade WR
Chiefs Dwayne Bowe WR
Colts Jeff Saturday C
Colts Marlin Jackson CB
Colts Kelvin Hayden CB
Colts Joseph Addai HB
Colts Gary Brackett MLB
Colts Peyton Manning QB
Colts Dwight Freeney RE
Colts Bob Sanders SS
Colts Dallas Clark TE
Colts Reggie Wayne WR
Cowboys Andre Gurode C
Cowboys Mike Jenkins CB
Cowboys Terence Newman CB
Cowboys Jay Ratliff DT
Cowboys Ken Hamlin FS
Cowboys Marion Barber HB
Cowboys Tony Romo QB
Cowboys DeMarcus Ware ROLB
Cowboys Jason Witten TE
Cowboys Roy Williams WR
Dolphins Vontae Davis CB
Dolphins Sean Smith CB
Dolphins Gibril Wilson FS
Dolphins Ronnie Brown HB
Dolphins Jason Taylor LOLB
Dolphins Jake Long LT
Dolphins Chad Henne QB
Dolphins Joey Porter ROLB
Dolphins Greg Camarillo WR
Dolphins Ted Ginn WR
Eagles Asante Samuel CB
Eagles Sheldon Brown CB
Eagles Brian Westbrook HB
Eagles Jason Peters LT
Eagles Stewart Bradley MLB
Eagles Donovan McNabb QB
Eagles Trent Cole RE
Eagles Quintin Mikell SS
Eagles Jeremy Maclin WR
Eagles DeSean Jackson WR
Falcons Tye Hill CB
Falcons Chris Houston CB
Falcons Erik Coleman FS
Falcons Michael Turner HB
Falcons Curtis Lofton MLB
Falcons Matt Ryan QB
Falcons John Abraham RE
Falcons Harvey Dahl RG
Falcons Tony Gonzalez TE
Falcons Roddy White WR
49ers Nate Clements CB
49ers Dre' Bly CB
49ers Frank Gore HB
49ers Joe Staley LT
49ers Patrick Willis MLB
49ers Shaun Hill QB
49ers Justin Smith RE
49ers Michael Lewis SS
49ers Vernon Davis TE
49ers Michael Crabtree WR
Giants Corey Webster CB
Giants Aaron Ross CB
Giants Kenny Phillips FS
Giants Brandon Jacobs HB
Giants Antonio Pierce MLB
Giants Eli Manning QB
Giants Osi Umenyiora RE
Giants Chris Snee RG
Giants Mario Manningham WR
Giants Steve Smith WR
Jaguars Rashean Mathis CB
Jaguars Derek Cox CB
Jaguars John Henderson DT
Jaguars Reggie Nelson FS
Jaguars Maurice Jones-Drew HB
Jaguars Tra Thomas LT
Jaguars Daryl Smith MLB
Jaguars David Garrard QB
Jaguars Mike Sims-Walker TE
Jaguars Torry Holt WR
Jets Lito Sheppard CB
Jets Darrelle Revis CB
Jets Kris Jenkins DT
Jets Kerry Rhodes FS
Jets Thomas Jones HB
Jets Alan Faneca LG
Jets Bart Scott MLB
Jets Mark Sanchez QB
Jets Braylon Edwards WR
Jets Jerricho Cotchery WR
Lions Dominic Raiola C
Lions Phillip Buchanon CB
Lions Anthony Henry CB
Lions Kevin Smith HB
Lions Matthew Stafford QB
Lions Dewayne White RE
Lions Ernie Sims ROLB
Lions Daniel Bullocks SS
Lions Brandon Pettigrew TE
Lions Calvin Johnson WR
Packers Al Harris CB
Packers Charles Woodson CB
Packers B.J. Raji DT
Packers Nick Collins FS
Packers Ryan Grant HB
Packers Aaron Kampman LOLB
Packers Chad Clifton LT
Packers Aaron Rodgers QB
Packers Donald Driver WR
Packers Greg Jennings WR
Panthers Richard Marshall CB
Panthers Chris Gamble CB
Panthers DeAngelo Williams HB
Panthers Jordan Gross LT
Panthers Jon Beason MLB
Panthers Jake Delhomme QB
Panthers Julius Peppers RE
Panthers Chris Harris SS
Panthers Muhsin Muhammad WR
Panthers Steve Smith WR
Patriots Shawn Springs CB
Patriots Darius Butler CB
Patriots Vince Wilfork DT
Patriots Fred Taylor HB
Patriots Logan Mankins LG
Patriots Tom Brady QB
Patriots Adalius Thomas ROLB
Patriots Brandon Meriweather SS
Patriots Randy Moss WR
Patriots Wes Welker WR
Raiders Samson Satele C
Raiders Chris Johnson CB
Raiders Nnamdi Asomugha CB
Raiders Darren McFadden HB
Raiders Kirk Morrison MLB
Raiders JaMarcus Russell QB
Raiders Richard Seymour RE
Raiders Michael Huff SS
Raiders Zach Miller TE
Raiders Darrius Heyward-Bey WR
Rams Jason Brown C
Rams Ronald Bartell CB
Rams Jonathan Wade CB
Rams O.J. Atogwe FS
Rams Steven Jackson HB
Rams Will Witherspoon LOLB
Rams Marc Bulger QB
Rams Chris Long RE
Rams Randy McMichael TE
Rams Donnie Avery WR
Ravens Matt Birk C
Ravens Fabian Washington CB
Ravens Domonique Foxworth CB
Ravens Ed Reed FS
Ravens Willis McGahee HB
Ravens Ray Lewis MLB
Ravens Joe Flacco QB
Ravens Haloti Ngata RE
Ravens Todd Heap TE
Ravens Derrick Mason WR
Redskins Carlos Rogers CB
Redskins DeAngelo Hall CB
Redskins Albert Haynesworth DT
Redskins LaRon Landry FS
Redskins Clinton Portis HB
Redskins Chris Samuels LT
Redskins London Fletcher MLB
Redskins Jason Campbell QB
Redskins Chris Cooley TE
Redskins Santana Moss WR
Saints Jabari Greer CB
Saints Malcolm Jenkins CB
Saints Sedrick Ellis DT
Saints Darren Sharper FS
Saints Reggie Bush HB
Saints Jammal Brown LT
Saints Jonathan Vilma MLB
Saints Drew Brees QB
Saints Jeremy Shockey TE
Saints Marques Colston WR
Seahawks Marcus Trufant CB
Seahawks Josh Wilson CB
Seahawks Julius Jones HB
Seahawks Patrick Kerney LE
Seahawks Walter Jones LT
Seahawks Lofa Tatupu MLB
Seahawks Matt Hasselbeck QB
Seahawks Deon Grant SS
Seahawks John Carlson TE
Seahawks T.J. Houshmandzadeh WR
Steelers William Gay CB
Steelers Ike Taylor CB
Steelers Chris Hoke DT
Steelers Willie Parker HB
Steelers Max Starks LT
Steelers Ben Roethlisberger QB
Steelers James Harrison ROLB
Steelers Troy Polamalu SS
Steelers Santonio Holmes WR
Steelers Hines Ward WR
Texans Fred Bennett CB
Texans Dunta Robinson CB
Texans Eugene Wilson FS
Texans Steve Slaton HB
Texans DeMeco Ryans MLB
Texans Matt Schaub QB
Texans Mario Williams RE
Texans Eric Winston RT
Texans Owen Daniels TE
Texans Andre Johnson WR
Titans Nick Harper CB
Titans Cortland Finnegan CB
Titans Chris Johnson HB
Titans Jevon Kearse LE
Titans Michael Roos LT
Titans Kerry Collins QB
Titans Keith Bulluck ROLB
Titans Chris Hope SS
Titans Nate Washington WR
Titans Justin Gage WR
Vikings Cedric Griffin CB
Vikings Antoine Winfield CB
Vikings Adrian Peterson HB
Vikings Steve Hutchinson LG
Vikings Brett Favre QB
Vikings Jared Allen RE
Vikings Chad Greenway ROLB
Vikings Tyrell Johnson SS
Vikings Percy Harvin WR
Vikings Bernard Berrian WR
ENTOURAGES
Bears Olin Kreutz C
Bears Josh Beekman LG
Bears Roberto Garza RG
Bears Kevin Shaffer RT
Bears Dusty Dvoracek DT
Bears Adewale Ogunleye LE
Bears Alex Brown RE
Bengals Andrew Whitworth LT
Bengals Andre Smith RT
Bengals Bobbie Williams RG
Bengals Anthony Collins LT
Bengals Pat Sims DT
Bengals Robert Geathers LE
Bengals Antwan Odom RE
Bills Eric Wood RG
Bills Andy Levitre LG
Bills Brad Butler OT (IR)
Bills Kirk Chambers LT
Bills Marcus Stroud DT
Bills Chris Kelsay LE
Bills Aaron Maybin RE
Broncos Ben Hamilton LG
Broncos Ryan Clady LT
Broncos Chris Kuper RG
Broncos Ryan Harris RT
Broncos Ronald Fields DT
Broncos Marcus Thomas DT
Broncos Darrell Reid LE
Browns Hank Fraley RG
Browns Joe Thomas LT
Browns Floyd Womack RG
Browns John St. Clair RT
Browns Ahtyba Rubin DT
Browns Kenyon Coleman LE
Browns Corey Williams RE
Buccaneers Jeff Faine C
Buccaneers Arron Sears OT
Buccaneers Donald Penn LT
Buccaneers Jeremy Trueblood RT
Buccaneers Ryan Sims DT
Buccaneers Gaines Adams RE
Buccaneers Jimmy Wilkerson RE
Cardinals Lyle Sendlein C
Cardinals Reggie Wells LG
Cardinals Deuce Lutui RG
Cardinals Levi Brown RT
Cardinals Bryan Robinson DT
Cardinals Calais Campbell LE
Cardinals Bertrand Berry RE
Chargers Nick Hardwick C
Chargers Louis Vasquez RG
Chargers Marcus McNeill LT
Chargers Jeromey Clary RT
Chargers Jamal Williams DT
Chargers Travis Johnson DT
Chargers Jacques Cesaire LE
Chiefs Rudy Niswanger C
Chiefs Branden Albert LT
Chiefs Mike Goff RG
Chiefs Ike Ndukwe RT
Chiefs Tank Tyler DT
Chiefs Ron Edwards DT
Chiefs Tyson Jackson LE
Colts Charlie Johnson LT
Colts Tony Ugoh LT
Colts Mike Pollak RG
Colts Ryan Diem RT
Colts Eric Foster DT
Colts Keyunta Dawson DT
Colts Robert Mathis LE
Cowboys Kyle Kosier LG
Cowboys Flozell Adams LT
Cowboys Leonard Davis RG
Cowboys Marc Colombo RT
Cowboys Junior Siavii DT
Cowboys Marcus Spears LE
Cowboys Igor Olshansky RE
Dolphins Jake Grove C
Dolphins Justin Smiley LG
Dolphins Donald Thomas RG
Dolphins Vernon Carey RT
Dolphins Paul Soliai DT
Dolphins Kendall Langford LE
Dolphins Phillip Merling RE
Eagles Jamaal Jackson C
Eagles Todd Herremans LG
Eagles Shawn Andrews OT (IR)
Eagles Stacy Andrews RG
Eagles Brodrick Bunkley DT
Eagles Mike Patterson DT
Eagles Juqua Parker LE
Falcons Todd McClure C
Falcons Justin Blalock LG
Falcons Sam Baker LT
Falcons Tyson Clabo RT
Falcons Jonathan Babineaux DT
Falcons Peria Jerry DT
Falcons Jamaal Anderson LE
49ers Eric Heitmann C
49ers David Baas LG
49ers Chilo Rachal RG
49ers Tony Pashos RT
49ers Isaac Sopoaga DT
49ers Aubrayo Franklin DT
49ers Kentwan Balmer LE
Giants Shaun O'Hara C
Giants Rich Seubert LG
Giants David Diehl LT
Giants Kareem McKenzie RT
Giants Rocky Bernard DT
Giants Chris Canty DT
Giants Justin Tuck LE
Jaguars Brad Meester C
Jaguars Vince Manuwai LG
Jaguars Maurice Williams RG
Jaguars Eben Britton RT
Jaguars Rob Meier DT
Jaguars Quentin Groves LE
Jaguars Reggie Hayward RE
Jets Nick Mangold C
Jets D'Brickashaw Ferguson LT
Jets Brandon Moore RG
Jets Damien Woody RT
Jets Howard Green DT
Jets Shaun Ellis LE
Jets Marques Douglas RE
Lions Damion Cook OT (IR)
Lions Jeff Backus LT
Lions Stephen Peterman RG
Lions Gosder Cherilus RT
Lions Grady Jackson DT
Lions Sammie Lee Hill DT
Lions Jason Hunter RE
Packers Scott Wells C
Packers Daryn Colledge LG
Packers Jason Spitz C
Packers Allen Barbre RT
Packers Ryan Pickett DT
Packers Cullen Jenkins LE
Packers Justin Harrell RE
Panthers Ryan Kalil C
Panthers Travelle Wharton LG
Panthers Keydrick Vincent RG
Panthers Jeff Otah RT
Panthers Damione Lewis DT
Panthers Ma'ake Kemoeatu DT
Panthers Tyler Brayton LE
Patriots Dan Koppen C (IR)
Patriots Matt Light LT (IR)
Patriots Stephen Neal RG
Patriots Nick Kaczur LT
Patriots Mike Wright DT
Patriots Ty Warren LE
Patriots Jarvis Green RE
Raiders Robert Gallery LG (IR)
Raiders Khalif Barnes RT
Raiders Cooper Carlisle RG
Raiders Cornell Green RT (IR)
Raiders Tommy Kelly DT
Raiders Trevor Scott LE
Raiders Greg Ellis LOLB
Rams Jacob Bell LG (IR)
Rams Alex Barron LT
Rams Richie Incognito RG (IR)
Rams Jason Smith RT
Rams Cliff Ryan DT
Rams Adam Carriker DT
Rams Leonard Little LE
Ravens Chris Chester RG
Ravens Ben Grubbs LG
Ravens Jared Gaither LT
Ravens Michael Oher RT
Ravens Kelly Gregg DT
Ravens Brandon McKinney DT
Ravens Trevor Pryce LE
Redskins Casey Rabach C
Redskins Derrick Dockery LG
Redskins Randy Thomas G
Redskins Stephon Heyer LT
Redskins Cornelius Griffin DT
Redskins Phillip Daniels LE
Redskins Andre Carter RE
Saints Jonathan Goodwin C
Saints Carl Nicks LG
Saints Jahri Evans RG
Saints Jon Stinchcomb RT
Saints Kendrick Clancy DT
Saints Charles Grant LE
Saints Will Smith RE
Seahawks Chris Spencer C
Seahawks Mansfield Wrotto LG
Seahawks Rob Sims LG
Seahawks Sean Locklear LT (IR)
Seahawks Cory Redding DT
Seahawks Colin Cole DT
Seahawks Darryl Tapp RE
Steelers Justin Hartwig C
Steelers Chris Kemoeatu LG
Steelers Darnell Stapleton G
Steelers Willie Colon RT
Steelers Casey Hampton DT
Steelers Aaron Smith LE
Steelers Brett Keisel RE
Texans Chris Myers C
Texans Chester Pitts G
Texans Duane Brown LT
Texans Mike Brisiel G
Texans Deljuan Robinson DT
Texans Amobi Okoye DT
Texans Antonio Smith LE
Titans Kevin Mawae C
Titans Eugene Amano LG
Titans Jake Scott RG
Titans David Stewart RT
Titans Tony Brown DT
Titans Jovan Haye DT
Titans Kyle Vanden Bosch RE
Vikings John Sullivan C
Vikings Bryant McKinnie LT
Vikings Anthony Herrera RG
Vikings Phil Loadholt RT
Vikings Kevin Williams DT
Vikings Pat Williams DT
Vikings Ray Edwards LE