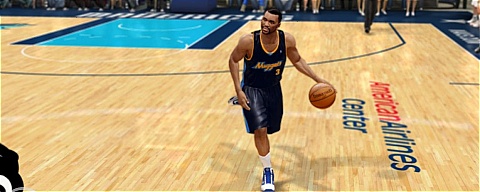 Last week I examined some of the players who have started the season playing above or below expectations. In doing so I found that none of the overall ratings in NBA Live 10 had been adjusted. However since then a roster update has been released that has adjusted ratings and added performance streaks.
The following is not a list of all the changes but I did go through the rosters and take note of which players had moved significantly or would be of the most interest. Sure to be noticed is that almost all of the movement was up even with teams that have been terrible like the winless Nets. The only team that saw big losses and no players with gains of over two points was the Hornets.
Revisiting the previous article
Surprises/Hot Starts: Brandon Jennings 80 (+10), Steve Nash 89 (+1), Tyreke Evans 75 (+6), Carmelo Anthony 91 (+1), Chris Kaman 78 (+4)

Disappointments/Cold Starts: Elton Brand 81 (+2), Shaquille O'Neal 84 (+1), Hasheem Thabeet 72 (no change), Stephen Curry 73 (no change), Kevin Garnett 90 (no change).

Thoughts: Nice seeing the positive adjustments to the standout rookies. But how is Hasheem Thabeet still a 72 when his stats would better represent a 50s rated player? And how do two players cited by fans of their own teams as having poor starts actually go up in the ratings?
---
Notable Changes
Atlanta Hawks: Al Horford 84 (+2), Marvin Williams 78 (+2), Jamal Crawford 78 (+3)
Boston Celtics: Kendrick Perkins 78 (+4)
Charlotte Bobcats: Boris Diaw 82 (+3), Gerald Wallace 82 (+2), Raymond Felton 79 (+2), DJ Augustin 82 (+3)
Chicago Bulls: Joakim Noah 80 (+3), Derek Rose 85 (-1), Kirk Hinrich 81 (+4)
Cleveland Cavaliers: Zydrunas Ilgauskas 79 (+3), JJ Hickson 70 (+3), Lebron James 96 (-1), Delonte West 81 (+3), Jamario Moon 73 (+4)
Dallas Mavericks: Jason Kidd 84 (+3), Jose Barea 75 (+4), James Singleton 71 (+5)
Denver Nuggets: Nene 82 (+2), Kenyon Martin 75 (+2), Ty Lawson 72 (+6), JR Smith 82 (+2), Chris Anderson 79 (+3), Renaldo Balkman 73 (+4)
Detroit Pistons: Ben Wallace 75 (+3), Charlie Villanueva 79 (+3), Kwame Bron 71 (+3)
Golden State Warriors: Monta Ellis 81 (+2), Anthony Morrow 71 (+4), Anthony Randolph 76 (+10), Ronnie Turiaf 72 (+4)
Houston Rockets: Chuck Hayes 68 (+3), Shane Battier 75 (+2), Trevor Ariza 78 (+3), Aaron Brooks 81 (+3)
Indiana Pacers: Roy Hibbert 74 (+4), TJ Ford 81 (+3), Soloman Jones 70 (+3), Josh McRoberts 74 (+4)
Los Angeles Clippers: Sebastian Telfair 75 (+3), Deandre Jordan 75 (+3), Mardy Collins 71 (+3)
Los Angeles Lakers: Andrew Bynum 82 (+3), Kobe Bryant 94 (-3), Sasha Vujacic 70 (+3), DJ Mbenga 70 (+4)
Memphis Grizzlies: Mike Conley 79 (+3), Hamed Haddadi 72 (+4)
Miami Heat: Jermaine O'Neal 81 (+2), Dwayne Wade 94 (-1), Mario Chalmers 79 (+5), Joel Anthony 69 (+3)
Milwaukee Bucks: Luke Ridnour 77 (+4), Dan Gadzuric 76 (+3), Luc Mbah A Moute 68 (+4)
Minnesota Timberwolves: Kevin Love 78 (+3), Corey Brewer 72 (+3)
New Jersey Nets: Brook Lopez 80 (+3), Josh Boone 72 (+3), Rafer Alston 80 (+3), Sean Williams 73 (+4)
New Orleans Hornets: Darren Collison 62 (-6), Marcus Thornton 57 (-11), Chris Paul 91 (-1)
New York Knicks: David Lee 78 (+3), Wilson Chandler 75 (+4), Chris Duhon 79 (+3), Larry Hughes 75 (+3), Al Harrington 78 (+5), Nate Robinson 82 (+4), Eddy Curry 67 (-4)
Oklahoma City Thunder: Thabo Sefolosha 70 (+4), Russell Westbrook 81 (+3), Nick Collison 70 (+3), DJ White 65 (+4)
Orlando Magic: Dwight Howard 93 (+2), Jameer Nelson 86 (+3), Marcin Gortat 78 (+3), Anthony Johnson 74 (+3)
Philadelphia 76ers: Samuel Dalembert 78 (+4), Louis Williams 67 (+3), Willie Green 65 (+3), Primoz Brezec 65 (-3)
Phoenix Suns: Grant Hill 80 (+2), Jared Dudley 68 (+3), Leandro Barbosa 79 (+3), Goran Dragic 71 (+5)
Portland Trail Blazers: Greg Oden 80 (+3), Nicolas Batum 70 (+4), Steve Blake 78 (+3), Martell Webster 53 (-4), Dante Cunningham 57 (-11)
Sacramento Kings: Jason Thompson 70 (+4), Beno Udrih 80 (+3), Francisco Garcia 74 (+3), Sergio Rodriguez 75 (+3), Jon Brockman 55 (-13)
San Antonio Spurs: Richard Jefferson 81 (+2), Antonio McDyess 75 (+4), Tony Parker 87 (-2)
Toronto Raptors: Andrea Bargnani 79 (+3), Jose Calderon 81 (-2), Amir Johnson 75 (+4), Jarrett Jack 78 (+3)
Utah Jazz: Kyrylo Fesenko 69 (+4), Deron Williams 88 (-2), Paul Millsap 73 (+3), Kosta Koufos 71 (+3), Mehmet Okur 77 (+3)
Washington Wizards: Brendan Haywood 76 (+3), Gilbert Arenas 80 (-4), Andray Blatche 75 (+3), Dominic McGuire 68 (+4)