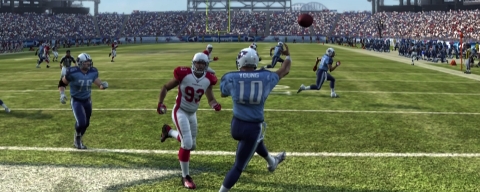 While no statement has been made as to whether a roster update for Madden 10 will be delivered this week the hope would be there after taking last week off due to the Thanksgiving holiday. If there isn't one this week that would make it only two updates in the seven weeks slipping into an area where a bad precedent of one update a month could be set.
Vince Young is now 5-0 as a starter and while he still hasn't put up huge numbers he had led the team to those victories and was fantastic on the late game drive to win on Sunday. A bump up to about 80 from his current 75 would be justified. Certainly continuing to be rated behind QBs such as Matthew Stafford, Mark Sanchez, and Jake Delhomme would not be. Percy Harvin is only his way to winning Offensive Rookie of the Year and probably deserves to crack 80. Justin Forsett has proven what lots of fans already knew in that he is the best running back on the Seahawks. In his three games as a starter he has rushed for over 100 yards in two of them and had 80 yards receiving in the other. Sitting at 76 at the moment he should benefit from the next update.
There are two players who could make cases to be rated 99. Chris Johnson is only the third player in history to rush for 125+ yards in six straight games. He leads the league in rushing and average yards per carry. Steven Jackson and Adrian Peterson are not even close on his tail. Johnson has already moved up so much this season that there may be hesitation to place him at the pinnacle. However in the case of Drew Brees he will likely become a 99 again after having been there for a short period of time earlier this season and slipping down to 97. The Saints are undefeated and he is arguably the favorite to win MVP at the moment.
Players hitting the IR include Eugene Wilson, Shaun Rogers, Antonio Pierce, Brandon Pettigrew and Chris Cooley. The Saints will be receiving Mike McKenzie who stepped up big in the game against the Patriots. As always leave your thoughts in the comments on the players that deserve to move up or down in ratings based on their performance.