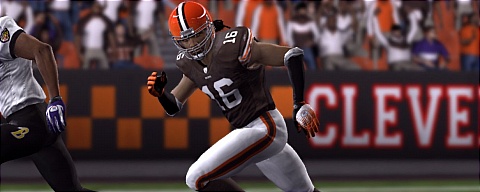 The first roster update since mid-November for Madden 10 that was supposed to arrive today has hit a snag. EA Sports now states that they have come across a bug that will delay its release. The earliest it could make its way out is early AM Saturday. Considering it will be the weekend it is within reason that it could end up actually being a longer wait but that is the most recent information that has been provided. Should any new developments take place regarding the status of this roster I will post the news.
With the gaps in updates (this is just the third in the last two months) it contains a significant number of ratings adjustments and roster moves. Vince Young moves up to a 79 while Chris Johnson didn't get the 99 many may have expected. Drew Brees falls a point short of hitting a 99. Darrelle Revis reaches 99 but no increase is made for Charles Woodson. Brett Favre, Philip Rivers, and Aaron Rodgers are nudged up to 93.
Chris Redman jumps from a 63 to a 69 after taking over for the injured Matt Ryan. Raiders fans will be stuck with a 67 rated Bruce Gradkowski into January now as he's somehow only rated two points higher than JaMarcus Russell. In the midst of a five game losing streak the Steelers actually gain more points in ratings than they lose.
Continue on for the complete list of changes in this roster update and leave your thoughts in the comments!