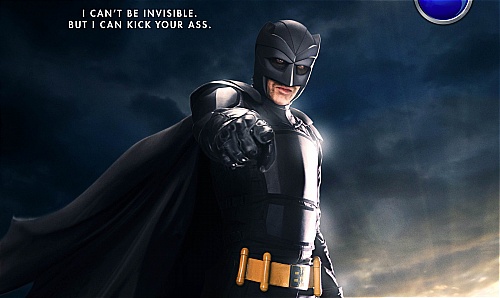 Last month the first trailer for Kick-Ass hit theaters. The reaction to it from those unfamiliar with the comic book wasn't overwhelming since it didn't really get across the R-rated and graphic nature that makes it unique. Buzz on the film is off the charts however. Just last week it was screened at BNAT along with other movies including Shutter Island and Avatar. Those two got hugely positive response but it was Kick-Ass named the big winner and discussion on Twitter about it has been spreading since.
Also missing from that initial trailer was Nicolas Cage who plays Big Daddy. Today UGO released the first glimpse at the character with a dedicated poster which can be viewed in full at the site and video which can be watched below. In the clip Big Daddy attempts to teach his daughter Hit Girl what getting struck by a bullet feels like.
The story revolves around an average kid who decides to become the world's first superhero despite the fact that he has no powers or even any training. Kick-Ass is currently slated to release on April 16th 2010.