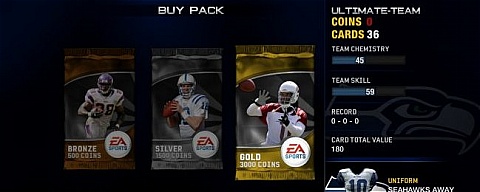 The patch that adds in the free game mode Madden Ultimate Team has arrived for the 360 and PS3. When starting up Madden 10 the prompt to update will be given and after that the new menu option will be displayed in the game.
I will be going through the mode today and have up some videos and impressions tonight or tomorrow. Until then feel free to leave your thoughts on Madden Ultimate Team in the comments!
Madden Ultimate Team is an all-new, strategic game mode for the critically acclaimed Madden NFL 10 on the PlayStation®3 computer entertainment system and Xbox 360® video game and entertainment system. Take the challenge to create the definitive NFL team, by collecting virtual cards that include everything from NFL superstars, head coaches, stadiums and much more. Perfect for card collectors and fantasy football gurus, Madden Ultimate Team provides a unique football experience, giving you total control over building a single team in the quest to be crowned the ultimate Madden team.
Features
Build Your Ultimate Team – With complete customization, take control over every aspect of your team. Set your starting offense, defense, special teams and then take your team to the field by playing games in Madden NFL 10. Determine who will coach your ultimate team, and then tailor additional aspects like uniforms and home stadium.
Nine Card Types – Collect bronze, silver and gold cards to form your ultimate team. Select from player, coach, playbook, injury, stadium, uniform, and contract card types. Go for the best with legendary player cards, as well as limited edition variants.
Develop Team Chemistry – Get an on-field chemistry boost, by selecting players from the same pro or collegiate team. Choose playbooks, stadiums and coaches from the same team to get an added boost, or allow Madden Ultimate Team to dynamically update as the lineup changes.
Acquire New Cards – Build your team in a variety of ways. Play games and earn coins to acquire new card packs, buy or sell cards with millions of Madden NFL fans at the auction block, or check weekly deals to purchase limited edition cards. Acquire additional card packs by using Microsoft Points on Xbox LIVE Marketplace or purchase them from the PlayStation Network.
The Hub – The home base for building your Madden Ultimate Team, The Hub provides easy access to your card collection. Make team changes or acquire new cards via the auction block or in-game store. Easily view total coins accumulated, team chemistry, team skill level, team record and total card value.
Online Leaderboards – Keep track of how your team ranks versus friends. Madden Ultimate Team online leaderboards will track your overall record, including head-to-head, versus the computer, and more.