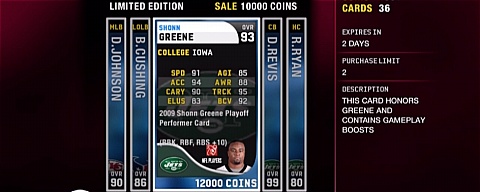 One of the most intriguing elements of Madden Ultimate Team is in finding particular cards, whether it be through auction, packs, or a special deal. This is especially the case with the limited edition cards that are being created. Following their performances in the Divisional Playoff games Reggie Bush and Sidney Rice received special cards as 99 rated players. Only 1000 of them were offered and they sold out fast. Earlier today a Darrelle Revis 99 rated card was released only to sell out within minutes.
Those cards will never be found in packs or offered again, so they only way to obtain them now would be through auction. Looking through the auctions it is crazy how much some are going for. Pulling a great card out of a pack could itself buy several more packs by auctioning the valuable one off. I heard a 99 Randy Moss from the Vikings days went for over 100K coins. A couple Darrelle Revis ones from today are on there with asking prices of 40-60K. Buying one of those earlier for 10K could have netted a nice profit or even saving it for a later date when they'll be tougher to find at auction turns it into more of an investment.
What is your favorite card so far in Madden Ultimate Team? Which one are you attempting to go for or find? Leave your thoughts in the comments!