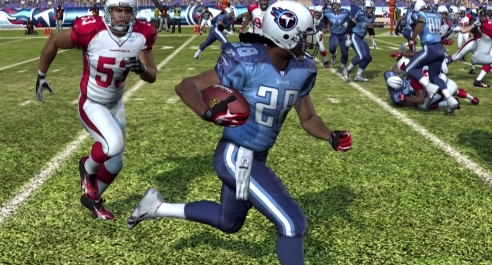 For the second straight year the first news on the upcoming Madden will arrive during halftime of the Super Bowl. A blog posting will go up with discussion about one particular aspect of the game. For Madden 10 that was the "procedural awareness" and included details on what it was all about as well as a few videos showing off the technology.
Earlier today lead designer Ian Cummings posted on Twitter that the idea of having a blog at halftime of Super Bowl XLIV for Madden 11 has been approved. Prior to that he had questioned what area of the game people would most want to hear about and included options such as gameplay, presentation, franchise and online. Though it seems likely the blog will end up being gameplay related you can still send a message on there or leave comments on this article with your thoughts on what the blog should concentrate on.
Personally I think I would most like to hear about new authentic touches, atmosphere enhancements, or improvements to Online Franchise. I guess I'd just like to have something fun instead of something heavy at this time. It's important to keep in mind that the information that will hit the blog will either be vague or very specific like it was last year. This won't be a blowout of information but it's still pretty neat to get something over six months in advance of the game's release.