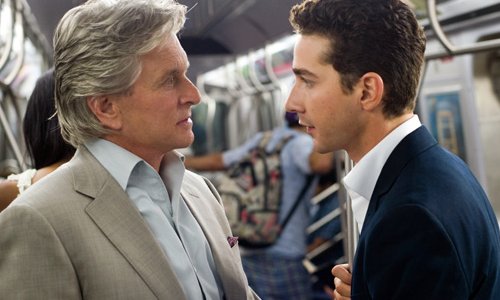 Michael Douglas returns as Gordon Gecko with Shia LaBeouf taking on the lead role in the upcoming sequel to to the 1987 classic Wall Street. Oliver Stone is also back as director for Wall Street: Money Never Sleeps. Gecko, out of jail but now in the much harsher economic climate, takes LaBeouf's character Jacob Moore under his wing teaching him the ins and outs of the investment world.
Emerging from a lengthy prison stint, Gordon Gekko finds himself on the outside of a world he once dominated. Looking to repair his damaged relationship with his daughter, Gekko forms an alliance with her fiancé Jacob (Shia LaBeouf), and Jacob begins to see him as a father figure. But Jacob learns the hard way that Gekko – still a master manipulator and player – is after something very different from redemption.
IMDB premiered the trailer earlier today and unfortunately an embeddable version is not yet available. Click here to check out the trailer. Wall Street: Money Never Sleeps is slated to release on April 23rd.