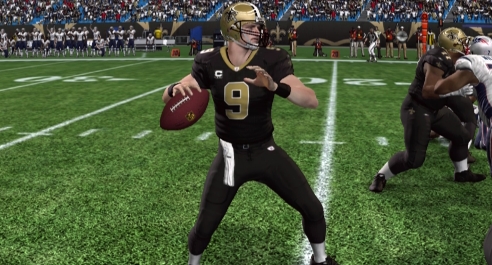 With ESPN announcing the names and the website now displaying them, the three players selected by EA Sports to be eligible for the Madden 11 cover vote can now be laid out as well as having a winner named from the contest I ran on Wednesday evening. The hints I provided allowed for narrowing down the possibilities but there were different ways to interpret them and different ways to piece together the three and still meet all those criteria.
Drew Brees is the clear favorite to win the vote being the most well known and in the spotlight for the big game. He led a relatively likable team with an inspiring story to the Super Bowl and put up MVP caliber numbers. Reggie Wayne comes in as a sleeper and the player who is still on the team he was drafted by. He isn't a flashy option but has put up big numbers for years though many would attribute that more to Peyton Manning. Jared Allen is the defensive player and the one with the questionable past as he has been arrested three times for DUI. That he is one of the options caught me by complete surprise because of that. There were better players with a cleaner history that could have represented the defensive side of the ball.
Only two people out of over 200 guessed the trio before the names were made public. 65South in the comments and bphg619 on Twitter. Actually only one other person even mentioned Reggie Wayne. After a coin flip 65South wins the $50 gift certificate. It was fun to see the names coming in and the reasoning behind them though so thanks for taking a shot!
The voting is now open at this website and will run through March 18th. They have broken the results into 44 individual days and six separate weeks which means if you have a strong feeling you'll want to vote every day during the time period.