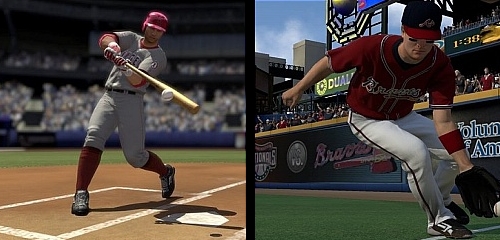 With just over two weeks until release of MLB 10: The Show and MLB 2K10 a great deal is known about the two games but there remains additional promotion to come before then. The Show has gameplay videos out which have been well received while everyone is still waiting on some from 2K10. Both games still have their demos to release as well.
Continue on for a quick recap on the status of the games at the moment. Vote in the poll regarding which game you are planning to purchase and leave your thoughts in the comments!
MLB 2K10 follows up one of the worst sports games in recent memory but looks to have at least stabilized and established itself as a viable option for 360 owners. 2K Sports has done a better job of promoting the game this year with a couple blogs going over aspects of the game in more detail. The $1 million prize and pre-order incentives show they are trying to win back gamers despite expecting to lose a ton of money this year which could be a sign of confidence. However with absolutely no gameplay having been shown and just two weeks until release that is providing reason for concern. There were videos for MLB 2K9 at this point last year and that was considered late due to an attempt to shield it from criticism. The demo will end up being a significant factor for many people in making a final decision.
MLB 10: The Show appears to be in great shape given how well the series has been received the last two years. Sales of 09 soared based off solid marketing and great word of mouth. Consumer confidence is at an all-time high and SCEA is pushing out info on the game at a regular rate. They have released several blogs, a ton of screenshots, and there are multiple extended gameplay videos available. The demo arrives later this year than last, where maybe it was out so early that its effect wore off. It would be difficult though to say that the early demo was a mistake given how well everything came together with the sales supporting every move that was made. One concern remains online play performance which unfortunately can"t be settled until after the game is released.