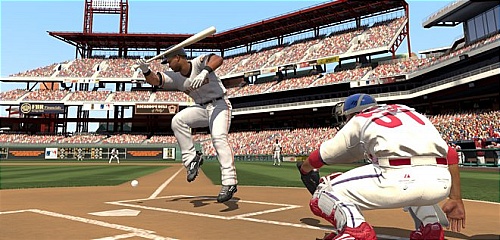 When the demo details for MLB 2K10 were released it was discovered that it would not arrive until March 4th for the PS3. 2K Sports representative Ronnie Singh tweeted about the delay to the MLB 2K10 demo yesterday in apparent reaction to the situation surrounding the lack of a pre-release demo for MLB 10: The Show.
So wait a second, our PS3 MLB demo gets held up a week for what reason now?
Initially my suspicion was that the MLB 2K10 demo had simply been submitted too late and that is the inherent risk involved. That has been the cause of some late demos from 2K Sports in the past so concluding that would be reasonable. However the information regarding the Best Buy kiosks exclusively offering the opportunity to play MLB 10: The Show prior to release of the game provided some additional information to consider. 2K Sports has suggested that the demo was submitted in time but held back for a reason outside of their control.
With the Best Buy promotion being seen by many as the apparent cause of MLB 10: The Show's demo not coming out prior to release, whether it is true or not, the perception will be that Sony prevented the delivery of the MLB 2K10 demo to protect sales of their own product. That sort of action would be very unfortunate. The consumers are the ones being left out in the dark and it could create dangerous precedent for the future.