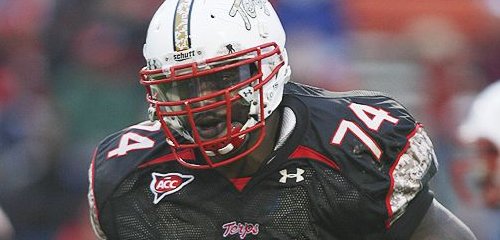 There has been a lot of talk about how there are several good tackles in this draft class but none that standout as particularly dominant. I'm not sure any of those opinions will have changed after the combine workouts. At guard Mike Iupati continues to be viewed as the best in class but may have already peaked with his mid-later 1st round stock.
Most Impressive
Bruce Campbell (Maryland)
The lineman kicked off the combine and Bruce Campbell was the first to get everyone buzzing running what was believed to be at the time record 4.77 for an offensive lineman. That was later downgraded to a 4.85 but still opened some eyes. Considering how much has been made of the poor tape on him many are going to perceive him as a workout warrior which means this may not have changed their impression. He has durability concerns but as a physical prospect is intriguing.
Tony Washington (Abilene Christian)
Performed very well in all the drills and coming from a small school it was important for him to have a strong showing. Character concerns in the past could still hinder his stock but he showed good athleticism.
Trent Williams (Oklahoma)
Ran a 4.88 putting him right behind Campbell as the fastest runners in the group. Looked great in the kick-slide drill which could help the perception of him as a left tackle rather than resigned to playing right tackle at the next level.
Jared Veldheer (Hillsdale)
Division II but performed above expectations under the pressure of the situation. He ran well and showed good strength while impressing in interviews. There will always be questions about having only faced Division II competition but he looks to be intriguing in the mid-rounds.
Disappointing
Anthony Davis (Rutgers)
Came in overweight and performed poorly with only 21 reps on the bench press. Did not look especially good in any of the drills. Stock has been slipping and he could fall out of the first round.
Dace Richardson (Iowa)
Looked very sloppy coming in last in several categories amongst guards including just 19 bench press reps and running 5.70 in the 40, and in the broad jump.