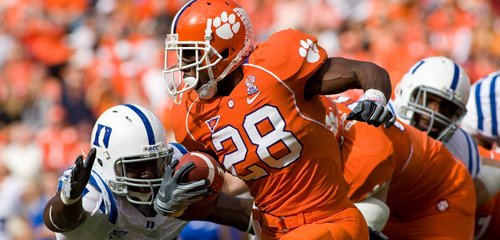 The running back class this year is deep and talented. CJ Spiller is the biggest name but there are a bunch that have the potential to contribute right away. Spiller and maybe one other will probably be all that are taken in the 1st round but after that talent several will come off the board in the 2nd and 3rd rounds and more will be found even in the late rounds.
Most Impressive
CJ Spiller (Clemson)
As if he needed more for his resume CJ Spiller ran a 4.28 in the 40. Putting that in perspective Chris Johnson ran it in 4.24 two years ago. Spiller did not take part in any other drills.
Ryan Matthews (Fresno State)
Lingering in the late 1st/early 2nd Matthews probably cemented that positioning after the workouts. He impressed with a 4.41 in the 40 and came across very well in his interviews.
Toby Gerhart (Stanford)
Showed he has more athleticism than many give him credit for in the drills and ran a 4.53 in the 40 which surprised some. I think he may have moved up to a second round grade on some team's boards.
Ben Tate (Auburn)
Viewed as more of a power runner he may have changed some perceptions of him after running a 4.43 in the 40 and putting up good results in the vertical, broad jump, and bench press. Was probably a third round guy but may have moved into the second.
Disappointing
Dexter McCluster (Ole Miss)
Scouts are still going to consider his tape more than his combine numbers but McCluster was a big disappointment running only a 4.58 in the 40. He will still be seen as an intriguing third down back, returner, or even slot wide receiver but he won't make it into the first round.
LeGarrette Blount (Oregon)
This is someone I've been pegging as a late round steal for whoever gets him. However he looked disinterested at the combine and didn't do anything but produce in the drills in mediocre fashion. He could have boosted himself with a great workout but still appears to be lingering as a late round pick.
Jonathan Dwyer (Georgia Tech)
Many are viewing Dwyer with more trepidation after only lifting 15 times and having raised questions about his athleticism after a poor broad jump. I don't necessarily see him slipping out of the second round but some feel that he has after today.