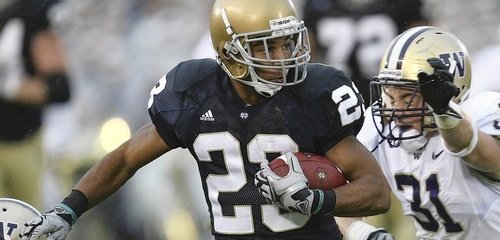 Wide receiver is generally the position that takes the longest to transition and produce at a high level. There is also probably no bigger boom or bust position in the draft. Because of the different offensive systems ran the combine results tend to weigh more heavily for receivers than others. There were a handful of standouts but also a few big letdowns this year.
Most Impressive
Jacoby Ford (Clemson)
It's noteworthy that Ford has been considered a guy that didn't have breakaway speed and then turned in the 4.28 at the combine. Showed an explosiveness that opened some eyes and displayed good hands. He still won't be seen as elite in this wide receiver class but he will be getting a lot more attention now.
Golden Tate (Notre Dame)
Turned in a 4.42 in the 40 which was faster than most were anticipating. Showed good route running skills. Looked good in the drills despite a few early drops. Going in he was seen as probably the third WR on most team's boards and he has likely either stayed there or moved up to second. He doesn't have the prototypical #1 receiver size but the encouraging 40 time was what many were wanting to see.
Brandon Long (Louisville)
Performed very well in all the drills. Best vertical and long jump out of the receivers and tied for the most bench press reps. So he has the athleticism and strength. Has moved into a likely selection in the late rounds and could be valuable on special teams.
Damian Williams (USC)
Showed good footwork in the drills and produced a decent 40 time in the low 4.5's. Very smooth and precise route runner.
Disappointments
Dezmon Briscoe (Kansas)
Probably the consensus pick for worst combine showing, he had numerous problems getting his qualifying 40 runs in and then produced a 4.64 result. Scouts were hoping for a lot better given he has something to prove coming from a system that tends to inflate receiver statistics.
Mike Williams (Syracuse)
This is a guy seen as having top tier talent but some major character issues. He was praised for his performance making catches at the combine but early reports are he did very poorly in his interviews. He put up only 8 reps on the bench press and ran a so-so 4.62 in the 40. He is not allowed to work out at Syracuse's Pro Day either so the perception right now is unlikely to change.
Dez Bryant (Oklahoma State)
Due to a hamstring injury Bryant skipped the workouts after completing interviews and physicals. Scouts will now wait until his March 10th Pro Day to see him in action after missing most of last season due to suspension.